October Brings Awareness to Students and Faculty of CCCHS
Hang on for a minute...we're trying to find some more stories you might like.
With help from local businesses and CCCHS faculty, the annual Pink Out Game and Breast Cancer Awareness Month fundraising helps to benefit local patients and their families.
Amid all  of the chaos at CCCHS in the month of October, our school finds itself plastered with pink bringing awareness to breast cancer. Detailed planning of this month's fundraisers is coordinated by Mrs. Henley, Mrs. Young, Mrs. Baldwin, and Mrs. Davis.
When Mrs. Young was diagnosed with breast cancer in 2011, FBLA officers sprang into action with their summer project which soon became Pink Out Week. FBLA officers and advisors create activity days for the project. With Farm Bureau Insurance joining to bring awareness, as well, Pink Out Week became an annual event. The event was sparked due to Mrs. Young's diagnosis; however, it has become something more for every patient.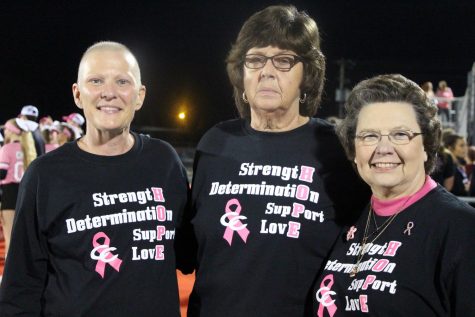 In an effort to raise awareness and funds, FBLA takes part in the following: selling cookies, designing and selling the Pink Out shirt, taking donations at the gate of the game, and hosting the annual FBLA Fall Bash. All the funds raised during Pink Out Week are sent to the Tennessee Breast Cancer Correlation. These funds are then specially marked to help Coffee County patients. The impact of Pink Out Week has been apparent through the assistance to mothers of football players, CCCHS students, and the community of Coffee County. CCCHS' football and basketball teams participated in fundraisers that helped raise money for the month of October.
Business sponsors are an important part of the Pink Out Week and game. The following were the sponsors for this year:
        Farm Bureau Insurance

        People's Bank and Trust

        First National Bank

        Mark Lemon's Construction

        Barrett Construction

        Marcrom's Pharmacy
Mrs. Henley's hope for Pink Out Week's impact is, "to bring awareness of breast cancer and a sense of helping in the community."