December Teacher Feature: An Interview with Mr. Brad Jamison
For the Coffee Press' second Teacher Feature, the staff selected Honors English III and AP Literature and Composition teacher Bradley Jamison. Out of all of the submissions suggesting Jamison, a common theme emerged: how much he cares for his students.
"Out of every teacher I have had over the course of my attendance at Coffee County Central High, Mr. Jamison by far exceeds all others in terms of care, love, and aid that he provides to his students."
"Mr. Jamison deserves to be featured because he is a[n] outstanding teacher, he cares for other[s], [is] easy going, and [is] one of the best teachers that have ever actually taken the time to talk to me on a personal level."
"He's really understanding and supportive. If you ever need someone to talk to, he's always there to listen!"
So, in order to give fellow students some perspective on Mr. Jamison, I sat down with him to ask him a few questions about teaching.
How long have you been teaching?
"This is my seventh year at high school. Before I taught two years [of] English as a Foreign Language – one in China and one in Nashville. Then I taught various graduate discussion courses under a professor, so I was a graduate teaching assistant for three years. That would be… twelve years of teaching altogether, at different times and in different places."
What were you doing before you taught?
"I went to university, four years undergraduate, then I moved to China and taught for my first year, moved back to Nashville, taught for my second year, started grad school at UT Knoxville, taught for my next two years. Then I went to Arizona and did graduate teaching there, and then for a brief period I was a chicken farmer and cattle farmer when I moved back to Manchester and my step-dad passed away. It was his farm, and my mom was left with it… so Mom and I worked the farm for two years… as we sold stuff off. And then I started here. I actually had to go back to school and get my teacher's license."
What inspired you to become a teacher?
"Just intellectual curiosity in the subject matter and the prospect of having a job where you get paid to study things that you're totally interested in and then talk to other people about stuff that you're totally interested in, that was the draw."
I know that being a teacher can be hard at times, so whenever it gets difficult, what makes you keep wanting to teach?
"Summer vacation, Christmas vacation, Thanksgiving vacation, fall break, spring break… I'm joking, that does help a lot, but at this point there is a commitment to wanting to watch your young minds grow."
What's the best part of being a teacher?
"The best part of being a teacher is watching you guys have that "a-ha!" moment, seeing you guys learn, seeing you guys realize that the world is deeper than you might have thought it was."
CCCHS is incredibly grateful for teachers like Mr. Jamison who are dedicated to helping their students grow, both as students and as people, and who always offer limitless support to their students.
About the Writer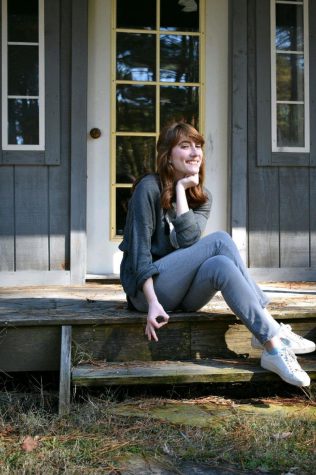 Melanie McKelvey, News Editor
My name is Melanie McKelvey, and I am a senior at Coffee County Central High School. My favorite hobbies include reading, writing, and making other people...