Friday night lights were like no year prior
A Coffee County Central High School spinoff to a normal homecoming with the help of COVID-19 leads to major changes and a difficult loss to the undefeated Warren County. 
As the underdogs went into the battle, they had an early deficit falling 21-0 with only five minutes left in the first half. This deficit would prove difficult, but would later be countered with a 13 point run from the end of the first half until minutes into the second half. 
CJ Anthony, a senior at CCCHS, attributed 13 unanswered points and ran an 80-yard touchdown from kickoff to put the Raiders in striking distance. 
The Raiders weren't finished with their barrage of scoring just yet and were making offensive and defensive plays. 
The Raiders' defense forced an interception which landed into the hands of Tristan Galy, sophomore, who ran an additional 45 yards to lessen the gap and make the score 21-13. 
The defense held Warren county's main player, CJ Taylor, to just 68 yards on 19 carries. The exceptional defense played and designed by the Raiders' coaching staff was enough to give the team a fighting chance. 
The defense was not enough to hold Taylor; while even having an off night, still gave his team two touchdowns. After the interception, Taylor threw for another touchdown to make the score 27-13. 
As spirits were getting lower, another defensive score came from Senior Matthew Pittman who ran the ball for 45 yards. 
Sadly, this night came to end with a loss, but a great overall effort from the Coffee County football team and they left as a team to be reckoned with. 
Many questionable calls also happened throughout the intense football game. One of these being in the first half when Galy drove the ball 65 yards upwards to what was believed to be a touchdown.
After "seconds laying on top of the pile, Warren County's Clay Thompson ripped the ball from Galy and sprinted 100 yards the other way for what the officials ruled a Pioneer touchdown" as quoted from Thunder Radio.
At halftime, an audience formed for the crowning of Homecoming King and Queen. 
This event, held yearly, was staggered and different from what it had normally been due to COVID. This year for health conscience reasons the court was required to wear masks. 
The freshman representatives were Layla Mcgee and Jacob Barlow.
The preceding sophomores were Kenzie Givens and Ashton Ferrell.
The junior representatives were Bethany Farrar and Tanner Maccagnone. 
Succeeding were the senior candidates for King and Queen including Larissa Brown, Montana Bowers, Andie Clutter, Dale Hoffman, Emma Holmes, Braxton White, Kylie Phillips, Blake Perry, Livy Rayfield, Trey Rogers, Justus Turner, and Jake Freeze.
Additionally, Football Queen was awarded to Abby Gault escorted by football player, Kyle Farless. 
Between the senior candidates, the student body elects a queen and king. The crowns were awarded to Andie Clutter and Jake Freeze. 
The student body government walked along the field as well. These Student Body Officers include Kylie Phillips, Connor Fox, Shelby Brinkley, Luke Beachboard, Elizabeth Brown, Shelby Watkins, and Jaxen Waggoner. 
Alongside these were the Student Class Presidents including Senior Lane Spry, Junior Kasen Holt, Sophomore Ashton Ferrell, and Freshmen Mathew Blomquist next to other student representatives from each grade. 
Although the event may not have been as "normal" as years past, CCCHS had still done a terrific job in conducting such a memorable moment for years to come. 
About the Writer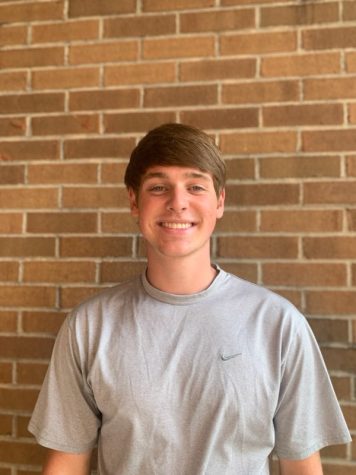 Nic Watkins, Sports Editor
Hello! My name is Nicholas Watkins and I'm a senior. I'm a Spikeball enthusiast and an assistant in many clubs in our school. I'm a sports editor...