CCCHS sophomore takes Coffee County by storm through dance
Local dancer, Audrey Barton, has performed in South Jackson Goes Country, our County Fair, Old Timer's Day, and most recently, the Manchester Art's Center's White Christmas all since the beginning of this school year. 
Audrey Barton, a sophomore here at Coffee County Central High School, attends Duck River Dance taking and teaching several classes. Audrey is stylized in pointe work (ballet), jazz, tap, and contemporary and loves every second of it. 
Barton initially started dancing because her older sister, Carrie, was taking a ballet class and she decided she wanted to try as well. Barton says, "She absolutely hated that I started taking dance classes and always called me a copycat for it! Sometimes we'll bring it up in class even now and laugh." 
Additionally, Barton is an avid member of the DRD Dance Company and Manchester Arts Center shows, having participated in shows like Newsies by Alen Menken and Evita by Andrew Lloyd-Webber. 
Barton's first conquest when school began was the South Jackson Civic Center's annual Country show. The company was the second act of the night performing "Ain't Goin Down" by Garth Brooks as a tap number. 
In September, Barton performed in the Coffee County Annual Fair on October 21st with the DRD Company. She danced in the tap and jazz styles to songs like "In The Mood" by Glenn Miller and "Vogue" by Madonna. Not to forget that the number to "Ain't Goin Down" resurfaced for this performance. 
When asked about her fair experience, Barton replied, "The fair performance was on overall success, and was so much fun! There were a few missteps here and there, but that always is in any performance. It was a blast, and it's always fun to perform outside the studio and in the community." 
The group had a variety of dances from classic musical theatre to more contemporary music with all ages performing. From graduating seniors to elementary school kids, the DRD family is full of love. 
Then Barton and company staged a small set of songs for Old-Timers' Day on the square. The company, with no time to prepare between the events, performed the same routines that had been at the fair. 
In a turn of events, (Covid-19 related, of course) several girls were quarantined putting them out of the routine. That's when Barton received her mission: learning two dances in thirty minutes.
She said, "Old Timer's Day was a lot of fun as well! However, this time we had some dancers out for various reasons, so we had a couple of spots to fill. So, I learned two, new additional dances to perform at Old Timer's Day in about 30 minutes. I had so much fun with those routines, and I am so happy I got the chance to perform in them."
In November, the dance company participated in the Annual Christmas Parade. To lift their spirits due to their normal performance being canceled, the girls danced through the parade. They walked and danced for the whole two-mile route and had fun while doing it. 
Most recently Barton performed in Irving Berlin's White Christmas at the Manchester Arts center the past weekend. 
When Barton talked about the experience she said, " Opening weekend was great! It was so much fun to finally have an audience to bounce your energy off of. Despite many road-blocks, we came across the week before the show, we had an amazing weekend. There's always a few things that can be improved, so we will work on those this week to put up another 3 amazing shows this weekend." 
But it's not too late to see Barton in White Christmas or other shows! This June Barton will take the stage as Aurora in the ballet Sleeping Beauty with Duck River Dance, will partake in a Christmas Variety show on December 19 at the Manchester Arts Center, and who knows what other endeavors Barton will encounter this year! 
About the Writer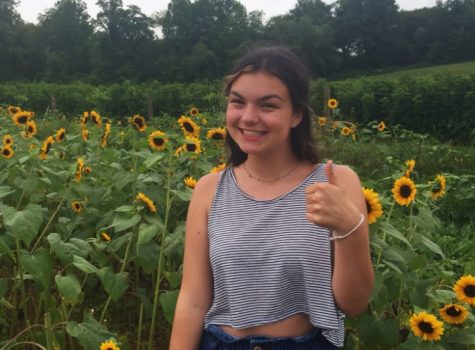 Jaxen Waggoner, Co-Editor-in-Chief and Social Media Manager
Hi, my name is Jaxen Waggoner and I'm the Co-Editor-in-Chief and the Social Media Manager for the Coffee Press! I'm also Editor-in-Chief for the Raider...