Night of Art
Hang on for a minute...we're trying to find some more stories you might like.
The second annual Fine Arts Night happens on Feb. 22 from 5 p.m. to 8 p.m. at CCCHS.
There was no cost for attending this event and enjoying the art that everyone in the fine arts department has worked to produce. The performances ranged from big groups to individuals, with a mix of theater monologues, college audition pieces, band performances, and small skits. There was an intermission. It's not necessary for attendees to sit still and watch all of the performances; they are encouraged to move throughout the cafeteria and admire the artwork.  
"
Visual arts have their pieces hanging up, band members play, the choir sings, and the theatre classes perform.  In addition, there is usually a preview of our upcoming musical, which this year is Hairspray!"
— Mr. Higdon
To organize this event, fine arts teachers Mr. Rogers, Mr. Curley, Mr. Higdon, and Mrs. Vacek sent in acts to Mrs. Peterson who organized what times the students would perform. For the most part, students got to choose what they wanted to present. However, some students are strongly encouraged to perform if their teacher believes their piece is extraordinary.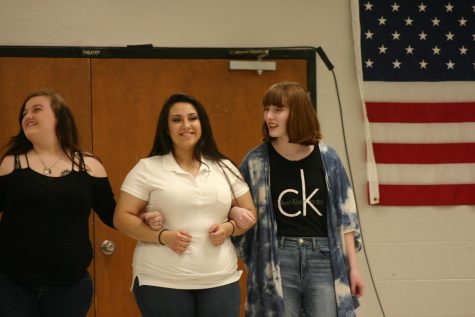 Individual students also performed monologues or music pieces, including Wesley Wilson playing "Suite for Baritone" by Don Haddad.