DECA Takes Flight!
Hang on for a minute...we're trying to find some more stories you might like.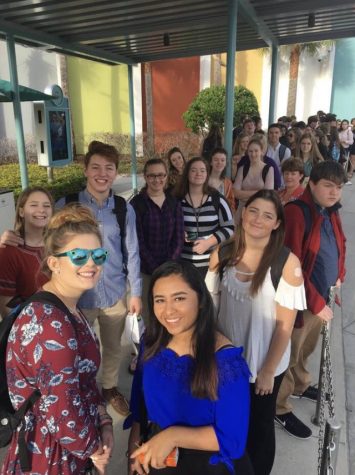 Every year, Ms. Prater takes her DECA students to a conference to Orlando, Florida, or New York City. These trips give students a unique experience that allows them to learn about marketing, but also to develop real world skills.
Students are required to manage their own funds, meals, and navigation around the city or amusement parks. These types of skills can not be taught in the classroom, which is why Ms. Prater's trips are such be
neficial and memorable experiences.
This year DECA attended the Sports and Entertainment Marketing Conference in Orlando, Florida. Nearly 50 students and chaperones flew to Orlando during the first week of February. Participants stayed at U
niversal Orlando Resort and attended daily meetings in The Blue Man Group theater.
These meetings were held by important figures in the sports and entertainment marketing field, including the marketing managers of Universal Studios and Orlando Magic. These meetings showcased the importance of advertising, human relations, and marketing. Students were given the opportunity to ask the professionals questions and explore creative career options in the business field.
Senior Heather Bishop stated, "I learned that there are many different careers related to marketing. The conference was really fun and a great learning experience. I will always have these amazing memories thanks to DECA."
If you are interested in learning more about Ms. Prater's marketing classes, DECA, or DECA trips,  contact Ms. Prater at [email protected].