Color Guard Wins First Prize!
Hang on for a minute...we're trying to find some more stories you might like.
Coffee County Winter Guard wonState Championships for the first time, performing "The Hardest Part." With a final score of 79.87. They also received the Tennessee State Gold Medalist award. Championships included 77 performing winter guards. Coaches Jacob Breed and Daniel Percell say they are, "Extremely proud of all the hard work our students put into this show." They also boast about the dedication of their students saying, "They show their dedication through the many hours of practice they have completed over the past several months."
"
Getting 1st place has inspired me to try bigger and better things as soon as I graduate."
— Heather Bishop
Heather Bishop explains, "Color guard is an experience like no other. You become so close to every member that you feel like family. You share a bond that no one else could ever understand looking into our group. It's a way to forget about all the stress of school and all the problems you have outside of guard. You come into a very loving and supporting environment." Freshman member Caley Gastineau says, "When I heard Coffee County being called out for first place I first thought it all was a dream. Coffee County hasn't won something in a while, and I felt so special to be apart of something so amazing."
Team members include captains, Heather Bishop and M. E. Spradley, along with Alyssia Ferrell, Haleigh Lorance, Emily Alviar, Jessica Parnham, Bailey Roye, Regan Crouch, Chelsey Bailey, Caley Gastineau, Katrina McCullough, and Loren Hanson.
 Congratulations to Coffee County Winter Guard!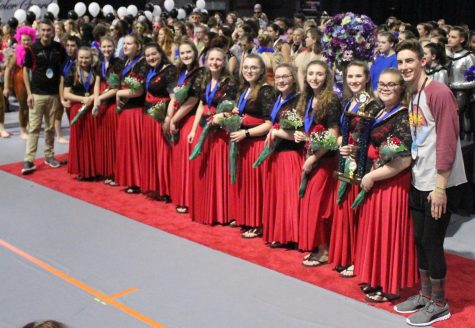 Photos courtesy of Kate Craighead.