Friday Fellowship
Hang on for a minute...we're trying to find some more stories you might like.
The Fellowship of Christian Athletes (FCA) is one of the many clubs in which students can join and participate here at CCCHS.
Jessica Bogle, a FCA officer, describes FCA as "a fun way to learn more about the Bible and God's plan for you."
All are welcome at FCA! Despite the title that describes "athletes" students do not have to be an athlete or even athletic to join FCA. Bogle adds, "Everyone including administrators, athletes, and  regular students are wanted. All denominations are welcome; we love having a variety, in fact you don't even have to be a Christian to come."
FCA is a club that meets together on Friday mornings in the theater at 7:20 to look into the word of God. However, if students get to school later then 7:20 don't be afraid to still come in and join. Jessica encourages, "Don't be scared to come in after 7:20 because all we want is for you to hear from God, and he doesn't need a full 22 minutes for that." Jessica's hopes for FCA are that the club would be a way to encourage students and teachers. "We want to allow God to use us in whatever ways He sees fit." She hopes to be able to lead others and help them by using her own prior struggles and experiences.
FCA plans to do a one day mission trip this year. They also do movie nights throughout the school year. There are summer camps as well that allow students the opportunities to learn and meet new people along the way. Other chances to gain leadership roles and experiences can be obtained through joining FCA and applying to be an officer.
"FCA is a fun way to learn more about the Bible and God's plan for you. We know that it's early in the morning, but there's no better way to start your day. Especially when testing comes up, the extra encouragement is helpful," Jessica adds in conclusion.
Last week's speaker was Jake Dorak, former CCCHS student, and associate pastor at Manchester First Baptist Church, who spoke on finding joy despite hardships.
This Friday take advantage of the opportunity for a time of fellowship by attending FCA.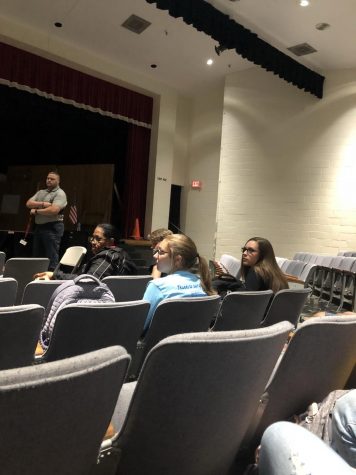 This Friday Conner Trent spoke at FCA. (left corner)