Let's Salute Our New Colonel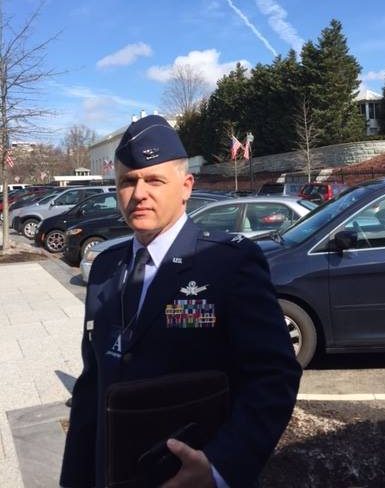 Aryana Hamrick, Lifestyles and Entertainment Editor
September 13, 2018
Mr. Mike Angle, the new Air Force ROTC Colonel, has joined CCCHS for the 2018- 2019 school year. In 1992, Mr. Angle became an Officer of the United States Air Force (USAF) through the Reserve Officers' Training Corps (ROTC) program at the University of Mississippi. After completing his undergraduate space training in 1993, he was assigned to Schrierver Air Force Base in Colorado, where he operated satellites from the ground. His job entailed "planning and executing maneuvers to keep the satellites in their proper orbit" and "troubleshooting anomalies and sending commands to keep satellites operating and able to perform their mission." From 2008 to 2011 Mr. Angle was the commander of the University of Tennessee's ROTC program. Prior to commanding at UT, he was a deployed commander in Iraq. In 2014, Mr. Angle was promoted to Colonel and was placed in charge of "training, education, and force development for all space and cyber units in the Air Force," which involved 39,000 individuals. During this time he was also responsible for the Air Force Space and Cyber Weapons and Tactics Program. His most recent job before joining the CCCHS staff was Director of Strategy, Plans, Programs and Policy for the Joint Force Space Component Command. One of his main objectives was to transform the Joint Space Operations Center into the Combined Space Operations Center. The difference between the two is joint operation revolves around only the United States military working as a whole and combined operation is multiple countries working together.
Having been in the Air Force for 26 years, the Colonel experienced a multitude of situations at home and at war. When he was in Iraq, his unit had a highly classified mission requiring them to wear sanitation suits with no unit patches or badges to hide their real mission. While on a C-130 with Army Rangers and special operators the Colonel believes a rocket-propelled grenade (RPG) was launched at them. "The door gunner yelled 'incoming, incoming' and the pilot executed a tactical landing.  He went from a couple thousand feet to the runway in a few seconds. I saw the chaff and flares deploy to fool heat seeking missiles and then almost threw up because of the negative G's," the Colonel recounted. "I only saw indirect fire during my time in Iraq. However, the bad guys knew our location and we had over 90 rocket and mortar attacks on our position."
Another case in which the Colonel has been changed forever was when he was the commander of the ROTC detachment at the University of Tennessee in 2010. One of his jobs as commander was to inform the next of kin of Airmen killed in action (KIA). Benjamin Daniel White, a Pararescue Jumper, had been killed when the helicopter he was in was shot down in Afghanistan. "I met an old gentlemen who knew something was terribly wrong by the way that I was dressed," the Colonel stated,
"I was reminded that freedom has never been free, but the personal sacrifice that many have made is unfathomable to those who haven't lost someone so close."
The Colonel listened to the father explain about a phone call he received a few days earlier.  "He said he told his son to keep his head down, maybe take a break. But, he said Daniel would have none of that. His son routinely fought his way into tough situations to pull out wounded and dying Marines and U.S. Special Forces troops who had no other source of medical help. He told his dad, 'Don't worry about me…pray for the Marines. They have a hard life here and are constantly in the fight.'"
Mr. White had also recently gotten a tattoo of John 15:13 on his back that stated, "Greater Love hath No Man Than He lay down His Life for His Friends."
The Colonel believes that this exchange with Mr. White's grandfather and father changed him forever. Growing up, the Colonel worked on a small farm and "never would have dreamed" he would have some of the opportunities he encountered in the Air Force.
One of the reasons he decided to retire at this point in his military career is because he wanted to be closer to his two youngest boys who live in Tupelo, Mississippi. He's oldest boys are in college as well as his stepdaughter, and his stepson is in Germany working as an Army Combat Medic. While active duty he had been told stories of other military members that had adult children out of college and had only been able to attend two of their birthday parties. "I wanted to be closer to them before they are grown. That's very difficult while you are active duty military," the Colonel stated. He spends most of his free time now travelling to see his youngest sons. However, his wife inspired him to begin teaching as her "passion is contagious."
As a commander of the University of Tennessee's ROTC program he prepared his cadets to become an officer in the USAF. However, the mission in JROTC (Junior Reserve Officers' Training Corps) is to "develop citizens of character dedicated to serving their nation and community." The cadets in JROTC are in charge of after school activities, as well as individual positions inside the Corps.
The Colonel's decision to become a part of CCCHS can be attributed to the impression Dr. Vaughn gave  him during their interview. "A supportive administration and strong partnership with the school and community are critical to the success of a JROTC program," the Colonel said.
Some advice the Colonel would like to share with the student body is to not be afraid to fail stating, "Failure is often a much better teacher than success, the courage to try is habit forming, and life is the journey and not the destination." One of his favorite quotes by Viktor Frankl is, "For success, like happiness, cannot be pursued; it must ensure, and it only does so as the unintended side-effect of one's personal dedication to a cause greater than oneself or as the by-product of one's surrender to a person other than oneself."
CCCHS is very excited to have Colonel Mike Angle with us this year, and hopefully many more to come.