Hello Homecoming!
Hang on for a minute...we're trying to find some more stories you might like.
Homecoming day is finally here! On Friday, September 28, CCCHS will be hosting homecoming activities from 12:00 p.m. until 2:50 p.m. Administration would like students to know that parents cannot bring them money, and that they will need to have anything they want out of their lockers before 12:00 p.m. Additionally students that are being checked out will need to have a purple slip from the front office. The class schedule is below.   
1st : 7:55 – 8:22
2nd : 8:27 – 8:50
3rd : 8:55 – 9:18
4th : 9:23 – 9:46
5th : 9:51 – 10:14
6th: 10:19 – 10:42
7th: 10:47 – 11:10
Pep rally : 11:15 – 12:00
Lunch : 12:00 – 12:25
Homecoming Activities : 12:25 – 2:50
Activities such as Battle of the Bands start at 1:00 p.m. in the theater for $5, and the CCCHS faculty v.s. the CCCHS volleyball team starts at 2:00 in the gym. The Theater Freak Show will be in the band room for $2 all day on a thirty minute rotation as well, and the Prom committee is hosting a scavenger hunt starting at 12:30 for $5. The freshmen hallway and vocational area will be closed to students and a map of festivities is placed below.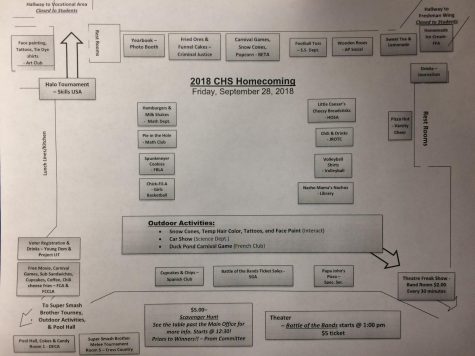 Lunch will be served at 12:00 p.m in the cafeteria, while other clubs and organizations will sell food and drinks. For example Special Services will be selling Papa John's Pizza on the side of the cafeteria leading to the band hallway. There will also be activities outside, such as the Car Show. If there are any questions, Mrs. Carney has sent out an email regarding the activities. 
About the Writer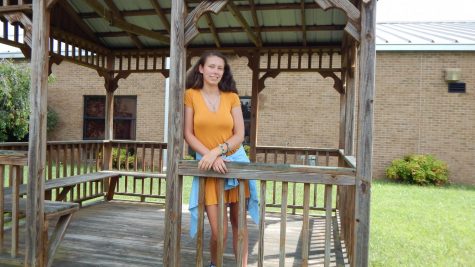 Aryana Hamrick, Lifestyles and Entertainment Editor
My name is Aryana Hamrick, and I am a 17 year old lifestyles and entertainment editor for The Coffee Press at CCCHS. I am the assistant football manager as well as a member of Art Club and Inklings.  In my spare time I enjoy reading, writing, and hiking. E.E. Cummings is my favorite poet. After High School I plan to enlist in the United States Air Force and make it my career. The job that I want post enlistment is Aerial Gunner, but I would be happy to just serve my country.  If I have any goals it is to live life with few regrets.