Mysterious Clubs At CCCHS
Hang on for a minute...we're trying to find some more stories you might like.
CCCHS has all kinds of great clubs that most students have no idea about.
Interact club: This is a service club sponsored by our Local Manchester Rotary Club. They focus on community involvement, leadership skills and putting service above self to care for others in our world both locally and internationally. It is a great way to make a difference and earn community service hours towards the TN Promise, TN Scholars, and other scholarships or applications. Enrollment is open to all students at the beginning of the school year. There are no class or grade requirements in order to apply. The fee is $25 for new members and $15 for returning members, and there is an additional $5 donation to PolioPlus. Interact has a district conference every March in Pigeon forge.  They compete against other Interact Clubs in our area for various awards: international project, community project, school project, fundraising project, activity with Rotary, club fellowship, inter-club activity, t-shirt design, name tag design and a scrapbook. Interact sells mums in the fall and poinsettias in December to raise money for their various service projects and to support their trip to the district conference. Interact members are expected to exemplify good citizenship within the school, and a teacher reference is required on the application. Members must also allow for their pictures to be taken during class projects. In order for Interact members to attend the district conference, they must have an application on file signed by a guardian, their dues paid, and participate in at least one fundraiser and one community service project during the current school year. They are no longer taking members this year.
Raider Creator: This club was created in response to Art Club taking a step back from painting sets. Mrs. Vacek and Mr. Higdon decided to take it further and make it a complete technical theater club. Students can choose to join any number of the subgroups of Raider Creators: set building, set painting, music and choreography, hair, makeup, costumes, props and scene changes, light and sound equipment and promotions. Raider Creator is open to any student grades 9-12, and being in art or theater class is not a requirement. Students can join at any point of this year  and are  expected to be kind, encouraging, and respectful to all. There is no fee to become a member. The club only meets for a few weeks before each theater production. Mrs. Vacek said " We would love to spread the word that we exist! We encourage students from every ability and skill level to join. There really is a group for everyone: construction, A/V equipment, painting, digital arts, cosmetology, fashion design, music and dance. We are also looking to expand our faculty involvement. Any teacher interested in leading one of the groups can contact either me or Mr.Higdon."
Inklings: This club is a creative writing club. Students play word games, have writers speak, discuss books, write poetry and attend a young adult book festival at MTSU in the spring. Anyone can join at any time, but the officer positions are filled. There is a $5 fee to join,but it is not required. There are no competitions. They would love more people to join, and they have hosted some awesome authors like Courtney Stevens, Lurlene McDaniel, and Ellen Hopkins.
Stellar: This is a very fun club that inspires and attracts high school students to pursue studies and careers in science, technology, engineering and mathematics through a challenging, space system design competition involving all aspects of system development and operation with a spacecraft / payload focus. This is an exciting, hands-on learning experience that develops commercially valuable skills and increases appreciation for the critical role of space in our daily lives. The competition attracts all types of students with diverse backgrounds who will establish their own experiential base of accomplishment, all while building teamwork and leadership skills. If interested, one must have a good standing in classes and have a positive attitude. The Stellar Xplorers would be happy to have any students or teachers who would like to join next year; however, they are no longer taking members this year.  
Young Democrats: This is a club for students who are interested in gaining volunteer hours and supporting the Democratic Party at the local, state and national levels. Anyone who is interested can join. This is an excellent way to earn Tennessee promise hours. Students cannot join this late in the year. 
ITS- International Thespian Society:This club is an internationally recognized honor society for theater, and students have to be participating in school theater productions, onstage and backstage. Students may get half of the required hours in community theater. There is a $35 lifetime membership fee. 
About the Writer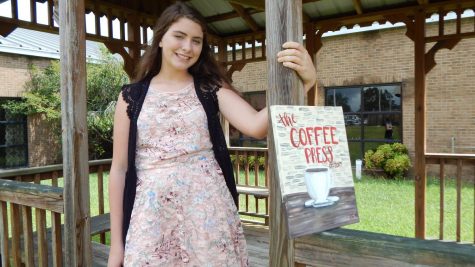 Aubrie Holder, Reporter and Photographer
My name is Aubrie Holder, and I am a sophomore here at CHS. I am a reporter and photographer for The Coffee Press. My passion is taking pictures. After...