CCCHS Teacher Of The Year
Hang on for a minute...we're trying to find some more stories you might like.
CCCHS faculty has once again nominated peers for teacher of the year; Mrs. Winton, Mrs. Haley, Mrs. Louden, and Mrs. Koger were selected
Mrs. Louden is a Culinary I, II, III, and IV teacher. She has taught for six years, and this is the first time she has been selected. However, she was selected as the Veterans of Foreign War teacher of the year in 2016.  Mrs. Louden said, "It is an honor and privilege to be chosen. I give credit to the good Lord above, my family and my amazing partners that have inspired and mentored me: Sandy Lewis, Angela Neal, Mindy Acklen, and Tina Keele. I am thankful to all of my comrades I work with and for. It is an incredible family here at CCCHS and in our county from the administration and the central office to our school. I also have extremely talented students that amaze me everyday. I am grateful to be able to work in this amazing place." 
Mrs. Haley is an Honors biology and AP biology teacher. She has taught for 25 years: physical science, biology, and AP biology. She also coached freshmen cheer leading for ten years. Mrs. Haley has been selected as Building Level and District Level Teacher of the Year three timer prior to this selection. Mrs. Haley stated, "I am honored and blessed. There are many other teachers who deserve this award."  Her advice to young or future teachers is, "Always treat everyone with respect. Be kind and patient. Think before you react. Realize each student is a unique individual and be willing to differentiate instruction accordingly. Believe in your students and encourage them to believe in themselves. Choose a career you love and enjoy the journey." 

Mrs. Koger teaches AP US History and European History. She has taught for 14 years: World, European, US, Tennessee History, and US History for Motlow and some other courses. Mrs. Koger has also been selected before but has never advanced to the next level. Mrs. Koger said "I am very honored to have been selected. I love my job so I think it is a great profession, and I would encourage anyone to be a teacher. We make all other professions possible."
Mrs. Winton is an AP literature and journalism teacher. She has taught for 33 years: English grades 5 through 12, AP language, AP literature, journalism, vocational English and math grades 9 through 12, and reading and math grades 1 through 8. This is the third year Mrs. Winton has been selected, but she has never advanced to the next level. Mrs. Winton said "I am honored that my co-workers respect me enough to nominate and select me. I believe that all educators deserve the award because we all work so hard." She also included advice to fellow teachers, "I would encourage them to be flexible and have a sense of humor. I would also encourage them to connect with their students by finding out their interests and hobbies. I would just tell students to let their teachers know they are appreciated. Our greatest rewards come from the gratitude of our current and former students."
About the Writer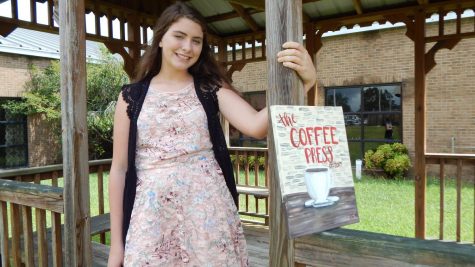 Aubrie Holder, Reporter and Photographer
My name is Aubrie Holder, and I am a sophomore here at CHS. I am a reporter and photographer for The Coffee Press. My passion is taking pictures. After...