Second Annual Poetry Slam Encourages Self-Expression!
On Friday, Jan. 1, Southern Word hosted the school's second annual poetry slam. After a week of the non-profit organization's residency in Mr. Stein's classroom, eleven of his students performed original poems, utilizing a chance to express their deepest inner voices – an opportunity infrequently offered in education.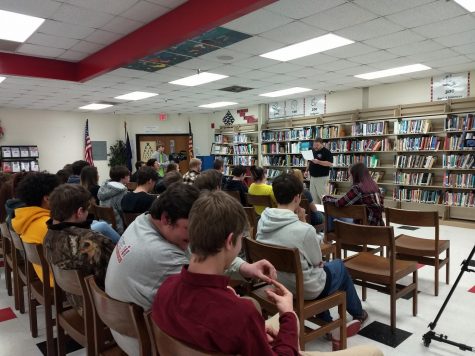 Following an apparent tradition of a sacrificial poet performing first, Mr. Stein kicked the slam off with his own piece describing what it is like to be an English teacher. Afterwards, a poet mentor Rashad selected students at random to perform their pieces. Eleven juniors boldly placed their own truths on display for an appreciative audience, who responded by snapping whenever a delivered line reached their hearts. Some vulnerable and some insightful, the performed poems touched a wide variety of topics, several illustrating the struggles of being raised without a father figure in their lives, and one touching on the life of a gamer.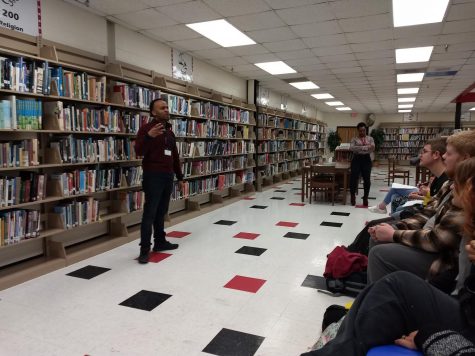 After the students' performances, the poet mentor asked for four random nouns from the audience. He then impressively free-styled a spoken word piece lacing the words into the performance.
The eleven juniors who participated were Nicholas Ambrose, Jeremy Brown, Kaylee Millraney, Seth Moses, Elizabeth Pinegar, Charlie Richardson, D.J. Sanderson, Luca Sanfilippo, Dusty Smith, Jessie Taylor, and Angel Wildman.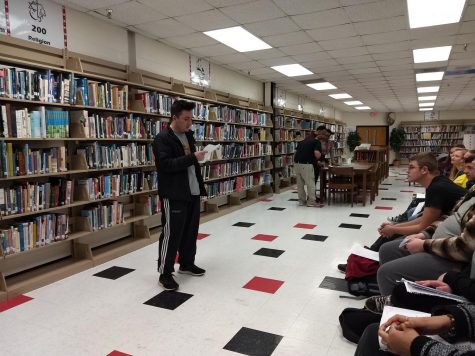 While this particular slam was not competitive and rather served as an outlet for student expression, the Regional Southern Word Poetry Slam co-sponsored by Project LIT  will be conducted on March 22, 2019, at CCCHS, the winners of which will advance to the statewide poetry slam at Tennessee State University in April.
The upcoming slam is available for participation from anyone in grades 9 through 12 from Coffee County and surrounding counties. Anyone thinking of participating should consider attending meetings in which Mr. Stein and Mr. Rutledge will be available to assist in the development and performances of spoken word pieces. These meetings will be occurring almost every Thursday from 3:15 to 5:00 in room 28, and everyone is invited to participate. For more information, students should refer to the announcements in their e-mails or the fliers in the English department.