CCHS' Master Chef Awarded Teacher of the Year!
Hang on for a minute...we're trying to find some more stories you might like.
Culinary arts teacher Mrs. Louden has been chosen as District Teacher of the Year. Clearly, Mrs. Louden's class stands out for far more reasons than the large kitchen that it dons. Among worthy nominees such as Mrs. Winton, Mrs. Koger, and Mrs. Haley, Mrs. Louden was selected as the winner.
Dr. LaDonna McFall remarked of her,
"
"[Mrs. Louden] is a caring individual that always works to make sure the students are challenged and can achieve success.  She is very hard working and always goes above and beyond for Coffee County High School.""
— Dr. McFall
With her extensive record of experience, not many could fill the role Mrs. Louden serves at the high school. Beginning her culinary career simply with a job at Wendy's, she has worked in banquet service at the Nashville Convention Center and Opryland Hotel. After achieving a bachelor's degree in nutrition and food science, she assumed the role of medical assistant and nutrition counselor at Murfreesboro Medical Center. This background certainly helps her go above and beyond when leading her culinary classes.
However, Mrs. Louden accredits cosmetology teacher Mrs. Sandy Lewis for inspiring her to pursue teaching, despite her husband also being a teacher for twelve years. She states,
"After I talked to Mrs. Lewis, the Lord lead me right through the door at MTSU."
Using the Post-9/11 GI Bill she received for her active duty service in Iraq, she obtained a certification in family and consumer sciences, as well as an endorsement in food and service management. This allowed her to teach students of health, family, and job skills, a desire which she fulfills each day.
For example, students can expect to learn in depth in her Culinary I course: safety and sanitation, knife skills, commercial equipment, and cake decoration. In Culinary II, they will learn to make sauces and homemade pasta. In Culinary III, they divide an entire chicken and cook it using various methods, as well as bake pies, make frozen desserts, and cater events. If students pursue Culinary IV and are accepted, they will plan events, serve and plan meals in the Raider Diner, and even have the opportunity to test for ServSafe Food Handler and ServSafe Manager certification. Needless to say, students that pursue a full culinary course will attain a vast array of practical skills to be utilized in jobs and at home.
With this title, Mrs. Louden excellently represents a group of teachers well deserving of an award such as this one. To any teachers that may decide to follow her example, she offers a piece of advice:
"Have partners you can go to for advice and help. Make friends with other faculty and staff around the building because you need each other."
Additionally, to all students, she advises:
"Have good work ethic, and do your best to work well with others. You NEVER know when you will need a reference in the future."
Mrs. Louden is an excellent selection for District Teacher of the Year. With her courses being centered around community service, citizenship, patriotism, and her students, Mrs. Louden is a hardworking leader that chooses to teach beyond the standards that are expected of her. Coffee County Central High School is extremely proud of our master chef (and definitely appreciative of all the delicious handmade snacks she and her students offer to us)!
About the Writer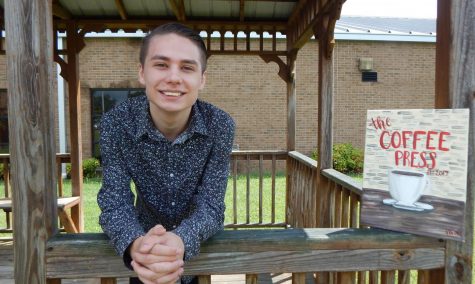 Jaiden Aquino, Assistant Editor
My name is Jaiden Aquino, and I am a 17 year-old Senior at CCCHS. As a life-long lover of language and linguistics, my participation as part of The Coffee...