SkillsUSA Returns From State Competition
SkillsUSA traveled to Chattanooga for their state competition.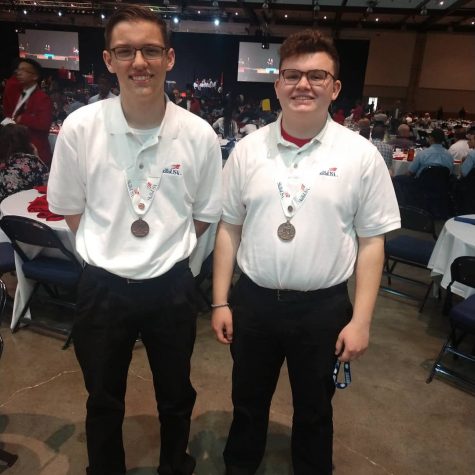 Over 2,000 students attended the competitions from all regions of Tennessee. CCCHS' students competed in such competitions as Public Speaking, Television Production, Digital Cinema, Audio Visual Production, Crime Scene Investigation, Quiz Bowl and many more. All students competed with their best effort and several students placed in their competitions.
The students who placed are as follows:
Kase Leatherwood and Tanner Brisbane – Bronze – Audio and Visual Production
Matthew Hale, Jasiyah Knox, Josh Roberson, Emma Singleton, and Ashley Meadows – Silver – Quiz Bowl
Melanie McKelvey and Yanely Luna – Silver – Television Production
Dalton McGinnis, Bailey Roye, Allison Vaughn – Silver – Promotional Bulletin Board
Colton Kerber, Brianna Gawrys, and Destiny Grissom – Silver – Community Service
Two state officers from CCHS were also elected, Jalen Morris as vice president and Brayden Gray as secretary.  CTE Director Mr. Skipper also received Administrator of the Year award at the awards ceremony. Congratulations to all SkillsUSA participants and medalists!