The CCCHS theatre department presents The Great Gatsby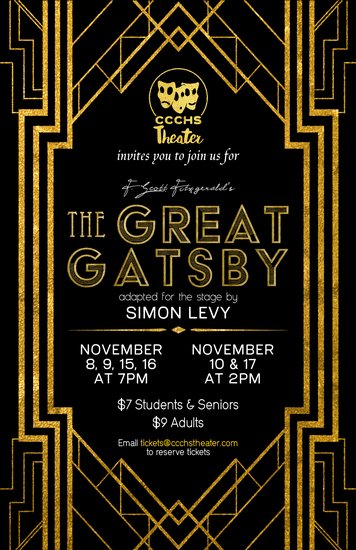 The school's theatre department will present "The Great Gatsby" November 8-17.
Performances will start at 7 p.m. on Fridays and Saturdays and at 2 p.m. on Sundays.
Tickets will cost 9 dollars for adults and 7 dollars for students and senior citizens. They will be available for purchase at the door.
There will also be 2 in-school performances. One performance will be specifically for juniors, but there will be a second showing for the rest of the school.
Tickets for the in-school show are priced at 5 dollars. Renaissance incentives will apply.
Mr. Wesley Rutledge, sophomore English teacher, directed and produced this fall play.
When asked why the theatre department chose this show, Mr. Rutlege replied, "With the fall plays, we always try to pick something that will relate back to curriculum."
He continues, "We know it's being studied in the junior classes and that it's something that can relate back to society. There are a lot of parallels between the story of 1920's Gatsby and today's society."
Rutledge says, "Everyone can relate to Gatsby's quest and the fact that it's about the pursuit of the American dream. Gatsby is automatically charismatic because of his hope and dedication to rising from the very bottom to the top to achieve his dream."
This is Rutledge's first time directing a show by himself. He states, "I think my favorite part was just seeing what the students can bring to the roles and production of the show."
The main characters include Jay Gatsby, played by Trey Frame, Nick Carraway, played by Sam Thomas, Daisy Buchanan, played by Mariah Black and Tom Buchanan, played by Michael Krystyan.
Black, as previously mentioned, plays the desirable Daisy Buchanan. Her favorite part of the production so far has been the audience. 
She says, "The crowds from this show have been the best crowds that we've had for any fall play in a while and it's super encouraging."
At a previous show, the cast was able to meet an actress that had previously been in "The Great Gatsby."
 Black continues, "We had a lady come to see the show that was in a traveling theatre troupe that performed 'The Great Gatsby' all over the country. When she was 23, she was cast as Daisy and had so much fun. She is now 98 and absolutely adorable."
Black encourages everyone to attend the performances. She says, "People should come watch the show because it's a timeless classic with engaging characters that will make you laugh and cry. It's more than your average English class Gatsby!"
So, revisit the Roaring 20s this weekend and buy tickets to see this timeless production!
About the Writer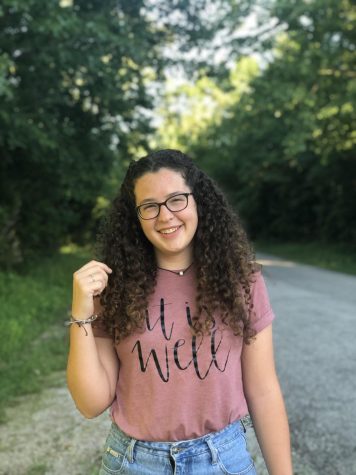 Ali Lemmons, Copy Editor
My name is Ali Lemmons and I am 17 years old and a senior at CCHS. This year I am a member of the Coffee Press, the Raider yearbook, student government,...