The 'Haunted' Library in Scenic Sewanee
On November 29, 1912, Templeton was born in Winchester, Tenn. His family came from little money, but Templeton worked, earned and gambled enough money to attend Yale.
It was at Yale that he began to delve into his eerie lifestyle when he pledged into the Elihu secret society.
The Elihu program selects 16 rising seniors each year. To be eligible, students must be nominated by current members.
No one knows quite how the selection is done, as the Elihu prefer their privacy; however, it is based on those who exude excellence, diversity, and leadership.
After graduating from Yale, he attended Oxford and became a Rhodes Scholar.
Once he finished his education, Templeton made a name for himself in the world of business.
As the Great Depression and World War II crippled American citizens, Templeton was buying, selling and turning into a business tycoon.
In the midst of the depression, Templeton boughs shares in several companies at a deflated cost, less than 1 dollar per share, and resold them for a high profit when the economy picked up during World War II.
He became a legend in investing and mutual fund managing. He went on to found the Templeton Growth Fund which he later sold to Franklin Resources in 1992.
However, Templeton's life began to take a turn in February 1951 when his wife was killed in a motorcycle accident. Years later, Templeton renounced his American citizenship to avoid paying taxes and moved to the Bahamas.
After moving, Templeton utilized his wealth to delve into matters of spirituality and religion. He founded the Templeton Society and established the Templeton Prize for Progress Toward Research or Discoveries about Spiritual Realities in 1972.
As the years went on, Templeton awarded his prize to several well-known figures including the Dalai Lama, Mother Teresa and Desmond Tutu.
To this day, the Templeton Society grants charitable awards to causes they believe will uncover the great mysteries of the world.
After the death of his second wife, Templeton refocused on his birthplace. He decided to build a monument to himself in Sewanee, Tenn: the Templeton Library.
However, with Templeton's flair for the dramatics, he decided the library would not be open to the public. In fact, it would contain very few books and have no established hours.
The library would be perfectly kempt and the lawns perfectly styled; however, the doors would remain locked and the library would sit unoccupied.
If this isn't eccentric enough, the library experienced a tragedy in 2001.
A sophomore at The University of the South, Wesley Mitchell, was at the library with a group of students.
 Although the library was closed, Mitchell tried to get in by entering what he thought was a laundry chute, but instead he slid down into the trash compactor and was crushed to death.
Due to the library's mysterious beginnings and tragic accident, it has become a staple for people looking to explore a 'spooky' location.
Today, the Templeton library is occupied by several apartments. According to Jeff Mallory, "The library has been occupied since around 2004 to 2005. People are living in the apartments right now." 
He continues, "The Templeton foundation plans to make part of the library public."
Livy Rayfield, a junior at Coffee County Central High, has visited the library with her friends.
She says, "I think there's some superstition about touching the statue, but one of my friends did. We told him not to because it's bad luck. He touched the statue and we started running and he fell and scraped his hand."
She continues, "It was all really creepy. When we were leaving, it was just so scary."
Hopefully, these mysteries will begin to unravel when the library is finally opened to the public.
Until then, the Templeton library remains a staple piece in the haunted and eccentric culture of Sewanee, Tenn.
About the Writer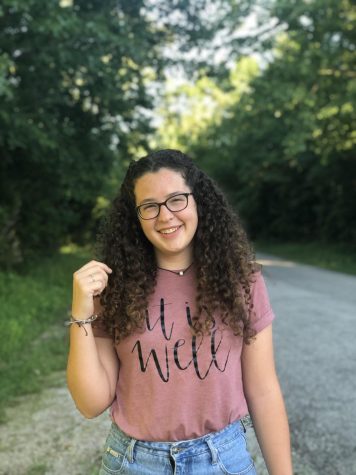 Ali Lemmons, Copy Editor
My name is Ali Lemmons and I am 17 years old and a senior at CCHS. This year I am a member of the Coffee Press, the Raider yearbook, student government,...