Folklore: The album nobody asked for, but everybody needed
In July of 2020, Taylor Swift revealed what had been taking up her time during the coronavirus quarantine―writing an entire album!
Swift announced on July 23, 2020, through a series of cryptic Instagram posts, that her eighth studio album was to be released that night. Two weeks later, "Folklore" landed the top spot on the Billboard 200 Chart and was still there as of September.
The track is an alternative album, a new genre for Swift, and has sixteen songs. To bring "Folklore" to life, Swift collaborated with many artists to assist in writing and performing the tracks. These artists include the band Bon Iver, Jack Antanoffe, Aaron Dessner, and William Bowery.
"Folklore" is very different from Swift´s other albums but still contains her signature flair.
"Folklore" is inherently different from Swift's other albums because it is more in the alternative genre of music.
Swift, who is known for writing across genres, has written different styles of music for her past four albums. The singer's seventh studio album, "Lover," was a soft-pop album dedicated to the more vivid sides of love and life, while "Reputation," her breakout album following a three-year hiatus from music, was a rock-pop combination dedicated to Taylor's past personas and her struggle with keeping them from defining who she is.
"1989," Swift's first pop album, was a synth-pop track taking inspiration out of music from the 1980s. "Red," the artist's last "country" album, took inspiration from pop genres to create a pop-country mix that was very well received by critics.
Even though "Folklore" is different from Taylor's past albums, that does not mean that you cannot spot some similarities.
In all of her compositions, Swift includes similar themes in her music. One of the common themes in her writing is the concept of love. Whether it is a slow ballad like "Lover" or a country breakup song like "Picture to Burn," Swift writes about every side of love and the feelings that often accompany it
What we can learn from Swift's history of songwriting is that she cannot be labeled as one specific type of musician. She personifies every feeling and creates music that appeals to everyone.
Compared to every other Taylor album, "Folklore" is even more evidence of Swift's artistic ability and her talent of stretching across genres and still writing chart-smashing hits. 
 The lead track on "Folklore," "The 1," is a down at heart love song that brings to words all the feelings someone might get when they think of what could have been. The piano backdrop adds an element of charm and grace,  blending with the lyrics to create a masterpiece of artistic excellence.  If given an overall rating, "The 1" gets an 8/10.  
The third song on the track is entitled "The Last Great American Dynasty." TLGAD is arguably the most captivating song on the entire album because it is all about the history of Taylor Swift's Rhode Island beach house. It follows the story of Rebekah Harkness and her journey of marrying into one of the wealthiest families in the world as she disrupts the status quo with her blithe way of living. According to the song, Rebekah did everything from losing card games with Spanish artist Salvador Dali, to stealing her neighbor's dog and dying it green during a feudued. Part of the reason this song is so fascinating is that it is based on true events, and combined with such a melodious tune, it will stay in your head and never leave. The Last Great American Dynasty deserves an overall rating of 10/10.
"The Lakes" is the song included on the "Folklore" deluxe album. This song is expressesing Swift's feelings with her past personas. The song intros with the lyrics "Is it romantic how all my elegies eulogize me?" These lyrics are describing how Taylor used to be, and still is, known partly for writing most of her music about her breakups. It is also how the breakup songs she has written still affect her image to this day. The instrumentation used in the song resembles that of a phonograph and adds an aged and classic feel to the recording. "The Lakes" gets an overall rating of 9/10.
Taylor Swift is an artist that can personify every feeling in the body in all of her music, and Folklore is no exception. The soft-alternative album has a more refined and elegant style compared to Swift's other tracks and can engage you so much that you just may find yourself casually swaying in the middle of your room when listening to it.
The more elegant instruments used on the track, like the piano and the phonograph, give "Folklore" a more vintage and classic feel than most of Swift's previous music. "Folklore" is evidence that Taylor cannot be tied down to one certain genre; rather, she writes what she feels and can write across multiple genres based on those feelings. 
"Folklore" is an amazing addition to the Taylor Swift repertoire, and has added a more graceful style of music to her collection. Taylor has always been one of my favorite artists, and she continues to out-do herself with each new album.
To say "Folklore" is exceptional would be an understatement, it is arguably the best album Swift has ever created and will go down in history as one of her all-time greatest records. Taylor Swift has given us the perfect cure for the Coronavirus blues, and for that reason, the "Folklore" album gets an overall rating of 11/10.
About the Writer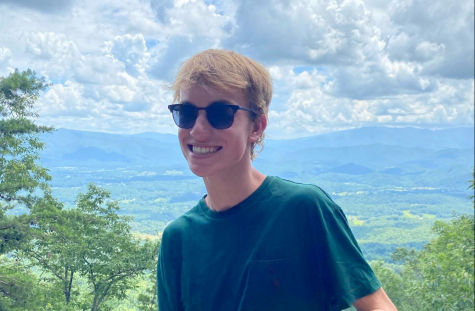 Connor Fox, School Clubs Editor
Hello, I am Connor Fox! I am currently a Junior at CCHS and am serving as the club editor for the coffee press. I am actively involved in Student Government...