Nowhere to go but up: the bright side of 2020
Although it was released in December of 2016, the movie "Sing" produced one of the most timely quotes for 2020 that I have seen. The main character says, "You know what's great about hitting rock bottom? There's only one way left to go, and that's up!"
2020 has been a notoriously bad year for everyone across the globe. With riots in the streets and global pandemics floating through the air, everyone is up to their limits for 2020.
News sources today will shove the negative aspects of 2020 in your face, making it nearly impossible to breathe for all the smothering evil in the world. Fortunately for your mental health, I will be going to share with you a few of the positives to come out of 2020.
First of all, students and adults alike have been learning useful new hobbies and skills throughout their respective quarantines.
Some students have chosen to dive into their creative sides by learning to paint or do fun makeup looks. Others have learned to communicate via sign language or explore their favorite games through coding.
Throughout quarantine, the interest in learning how to cook and bake has risen with the sudden allotment of downtime. Videos have spread far and wide across the internet of people teaching or learning how to make meals that vary anywhere from simple to requiring mastery of certain techniques.
Another positive side of having to quarantine is that it has taught us the value of spending time with our friends and loved ones.
Back in 2019, no one had to think twice about visiting a relative or a good friend. Now that we're often discouraged from doing so, we have learned to appreciate the time that we get, no matter how short it may be.
Some recognized quarantine as an extremely opportune time to work on their physical well-being through exercise and the addition of healthy eating habits. Many people have implemented regimens of walking/running through their neighborhoods, following online workout tutorials, or keeping track of their daily calorie and/or water intake.
Another upside worth mentioning is the opportunity to watch movies, such as Frozen II, from the comfort of our homes much earlier than we would have without quarantine. We all know that it's much less embarrassing to sing along with Elsa in your living room than in the theater.
2020 may have been a tough year, but let's make an effort to appreciate the things we've learned and the things that we have achieved. And if we gained nothing else, we at least got to giggle at celebrities telling us, "we're all in this together" from their million-dollar yachts and luxury homes.
About the Writer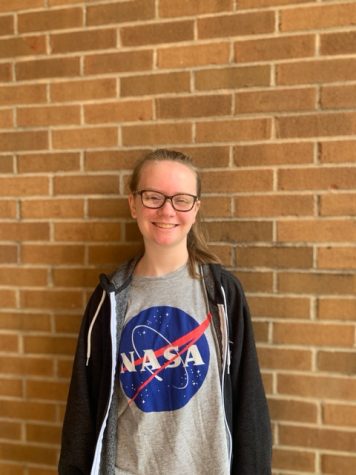 Lindsey Landrum, Humor Editor
My name is Lindsey Landrum and I'm a Sophomore at CCCHS. I like to play the piano, sing, and play disc golf. I'm also Assistant Student Leader for...