A senior year without a prom?
In January, many seniors are just ready to graduate and go to college or just get on with their life already. Since COVID-19 is still happening and numbers keep rising there will most likely not be a prom. 
However, many seniors feel that senior year was supposed to be the best year. There are so many people that have been waiting their whole life for those momentous occasions; prom, graduation, pep-rallies, sports games, senior trips, and etc.
Senior, Kylie Phillips stated her opinion on whether or not seniors should get to have a prom. She said, "I really think we should have a prom because a lot of us did not get one last year. Social distancing and masks could be put in place. We could even have one outside to help with social distancing." 
Another senior Braxton White shared his opinion about prom as well saying, "I think there needs to be some kind of prom. This year's seniors have never gotten the prom experience."
He still understands the COVID-19 procedures commenting, "I do believe that some regulations should be put in place due to the pandemic because I want to stop COVID-19 spread, but seniors deserve to have a night to enjoy themselves before their high school careers come to an end. No one deserves to have that stripped away from them."
A cosmetology teacher, Mrs. Lewis, had an opinion on how COVID-19 affects students as well.
She stated, "I have been affected by COVID-19 by not visiting my mom but only through a window at the nursing home for the past 10 months. When we felt how graduation is going to happen for May 2020 they worked very hard to devise a plan for graduation that in the history of the school was amazing. It breaks my heart for all the changes in our student's world."
Unlike graduation, the school did not allow for a prom to be put in place; in order to enjoy the occasion, many seniors of the class of 2020 created their own private proms.
This year, it is unclear whether or not students will get a prom; however, it is clear that seniors want this dance to happen no matter the COVID-19 protections put into place to make it work.
Prom is a day to get dressed up, have fun, and dance with your fellow classmates. It's the day to reminisce over the good times students have had throughout the past four years. That day should be kept to remind students of the good times high school brought.
About the Writer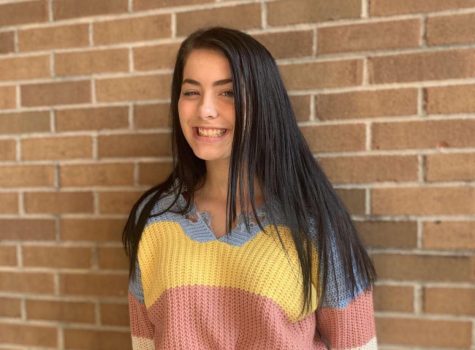 Aubrie Holder, Sports Writer
My name is Aubrie Holder and I'm a senior this year. This is my third year being on the journalism staff, and I couldn't be happier. I'm on the CCHS...