Iconic love stories rated by a love "expert"
I may never have dated anyone (I know, I'm calling myself out here) but my knowledge of love and relationships through reading and observation is enough to at least have an opinion.
While at first you may look at me, a relationship novice, and think "how can she understand classic love stories?" Well, I am here to tell you that I am an expert when it comes to storytelling, and love stories just happen to be some of my favorites.
The amount of iconic love stories in literature or mythology is extreme, and it would be impossible to rank them all; what I can do is tell you which ones you should watch or read immediately, and which ones you should avoid at all costs.
So, here is my list of the most well-known love stories, and whether or not they deserve to have a place at your Valentine's pity party filled with chocolate strawberries and tears.
"Romeo and Juliet" (Shakespeare) 5/10
Almost every single person has read this iconic Shakespearean play at least once in their lives, and, if you haven't, you've at least seen an adaptation of the famous play.
For that one person who hasn't, this tragedy is filled with the epic drama of rebellious teenage romance. Romeo and Juliet have been caught in their family feud, and they have no idea the catastrophe their little romance will cause.
I can describe this play one way: over-the-top.
"Romeo and Juliet" teaches about communication, ironically, as well as the importance of family, love vs. lust, and other basic romantic concepts.
I give it a 5/10 because of how great the typical adaptations are as well as the authorship. If you can truly understand Shakespeare well, you'll find at least one version of this play to enjoy.
"Pride and Prejudice" (Jane Austen) 100/10
Okay, I have an extreme bias for this one because the 2005 film adaptation of this book is my absolute favorite movie. Still, some would criticize me for not reading the book (it's on my 2021 reading list, Lindsey).
If you're into period dramas, Jane Austen is the perfect author for you. 
The slow-burn, clean, and classic romance between confident, witty Elizabeth and socially awkward Mr. Darcy can only be described as the relationship of every girl's dream.
I won't spoil the twist, but this enemies-to-lovers story features one of the best male love interests to ever exist.
This story also features many amazing adaptations and is one of the best romances to date where the characters have real chemistry and don't spend the whole time trying to make-out.
"The Notebook" (Nicholas Sparks) 3/10
Now once again, this is based on the movie version, and I am going to break some hearts here.
Ryan Gosling is swoon-worthy in any film he does, and this movie was no different. However,  the couple in this movie is the definition of toxic.
If you aren't watching this movie because you want something with good relationship advice/standards, go ahead; however, Noah and Allie spend the whole first half of the movie arguing or doing something stupid, and while they have good chemistry, just don't seem to fit well together for longer than a couple of months.
I just personally don't think they're a good couple, and many people agree with me. Somehow this tale is iconic and I'll give it praise for what it does. I gave it a four because I'm emotional and like to cry.
Without spoiling the ending, I will promise you will cry throughout "The Notebook" more than the tragedies on this list. It is a movie worth watching if you haven't seen it, but I would caution you on calling them a 'cute couple."
Orpheus and Eurydice (Unknown) 10/10
If you haven't heard about this Greek myth, LOOK IT UP. This is one of the most beautiful tales of love and heartbreak. It will make you cry before you even get to the sad parts because of how cute they are.
Basically, Orpheus is one of the most skilled musicians in history, and he falls in love with a beautiful wood nymph. She is entranced by him and they decide to get married; the gods bless their marriage, and everything is just great. Then, this other guy gets jealous and everything is not great anymore. 
I'll link the article where I first read about the myth for you to enjoy.
This story will make you smile, cry, and will help you be more educated about other cultures and the stories that they have to tell. I often find that Greek culture wrote some emotional and intelligent stuff and I love it.
Not only that, but a famous broadway musical named "Hadestown" is based on this tale, and from the music I've heard, it is probably amazing. 
"Twilight" (Stephanie Meyer) 1/10
I honestly don't understand why this one is iconic, but since it is a household name, I decided to include it.
I don't like it.
The concept of supernatural beings is great and can be done well. I'm just tired of mediocre writing and romance being celebrated because of love triangles or something when there are so many amazing authors out there who explore teen relationships well (no, I'm not talking about John Green either).
That's my list! There are so many other honorable mentions like "The Great Gatsby" (9/10) or "Titanic" (6/10).
I hope you find just the right love story to enjoy alone in your room or even with a group of your best girlies on Valentine's Day. I'm sure I will be watching "Pride and Prejudice," and if you liked my list, I'll be expecting the same from you!
Also, if you decide to celebrate Valentine's with your friends, pick up a Candy Gram in the CCCHS cafeteria during lunch and send your loves a sweet treat!
About the Writer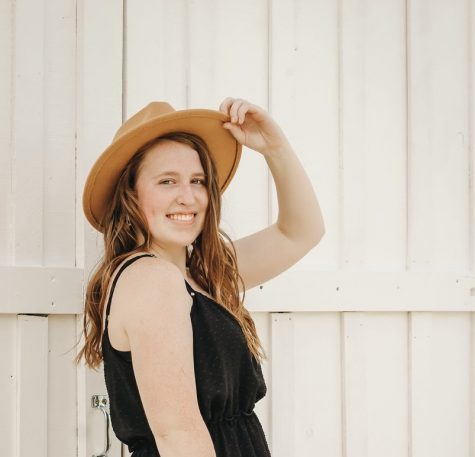 Shelby Watkins, Editor-in-Chief
My name is Shelby Watkins, and I'm a senior this year. I am the leader of Refuge 305, Student Ambassador in student government, and am the Editor-in-Chief...