Most Anticipated Movies of this Year
With a slew of new movies coming out this year, as well as several being set back due to the COVID-19 Pandemic, there is a lot to look forward to for moviegoers. 
With theatres pushing to (hopefully) reopen their doors and COVID-19 vaccinations getting distributed almost daily, things are looking cautiously hopeful for 2021. 
Here is a list of the most anticipated movies for you to watch out for this year.
A Quiet Place Part II
2018's "A Quiet Place" brought much success for the directorial debut of John Krasinki. It will also see the likes of Emily Blunt, Milicent Simmonds, and Noah Jupe returning as the Abbott Family, some of the last remnants of an apocalyptic world. 
After its push back right at the beginning of the Quarantine in March, this silent sequel is set to premiere on September 17th.
Mission Impossible 7
Ethan Hunt is back again to save the world! After the success of 2018's "Mission Impossible: Fallout," this action franchise was bound to have a go at another sequel. 
With the buzz created by Tom Cruise's strict adherence to COVID-19 safety measures on set, the movie is already making headlines. Hopefully, this bomb will be diffused in time for its  November 19th release date. 
No Time To Die 
With what looks like the last entry in the modern James Bond canon, "No Time To Die" will see Daniel Craig in his last outing as the iconic spy. 
Amidst many release delays, this spy thriller has had an uphill battle for a release. It will be here in no time on April 2nd. 
Raya and The Last Dragon 
Dragons? Sword-fights? The people that made Moana? What's not to get excited about? Set to premiere on Disney Plus, March 5th, this animated adventure will see the voice talent of Kelly Marie Tran and Awkwafina.
Disney is tackling more Southeast Asian cultures in animated form, and it will be interesting to see what kind of creativity will be used to keep the movie feeling engaging and fresh.  
Black Widow
Much to many Marvel fans' eagerness, the title superheroine is finally getting herself a standalone movie. Charging forward into theatres on May 7th, this prequel will see Scarlett Johansson's Natasha Romanoff forced to face her past as a spy. 
Spider-Man 3
The endless rumors online have certainly spun a web of curiosity and conspiracy around this Marvel sequel. And fans couldn't be more excited about it! 
Will this Universe-spanning, spidey-sequel stick the landing? Or will it just end up a convoluted mess? Either way, audiences will get to see it swing to theatres on December 17.
Space Jam: A New Legacy 
Kids who grew up with the original "Space Jam" have now grown up into adults. And these adults have turned the movie into something of a cult classic. 
So naturally, there is more than a little hype for this long-awaited sequel, which will see NBA superstar Lebron James team up with Bugs Bunny and the rest of the Tunes Gang!  
Audiences can expect a debut in both theaters and on HBO Max, on July 16th. 
Godzilla Vs Kong
Ever since the first trailer crashed its way on the Internet on January 24th of this year, the building hype around this movie has been absolutely massive. 
Who wouldn't be excited to see two of the most iconic movie monsters pitted against one another in a "head-to-head" clash of the titans? A battle of East vs West! 
This mammoth meeting of monsters is looking to be a massive battle for the ages on both HBO Max and in theatres on March 31st. 
Dune
Finally, this movie is shaping up to be one of the most anticipated movies in recent memory. 
Directed by one of the most acclaimed directors alive, Denis Villeneuve. And being adapted from one of the influential science fiction novels of all time, "Dune" already has a lot of pressure, (and a lot of talent,) behind it. 
With a star-studded ensemble that contains the likes of Timothée Chalamet, Zendaya, Jason Mamoa, and Oscar Isaac as well as a trailer that has slowly attracted attention online, more and more people are curious to see what the fuss is all about.
Will the Spice flow for this first part a planned two-movie epic? Only on October 1st will fans and audiences know.
About the Writer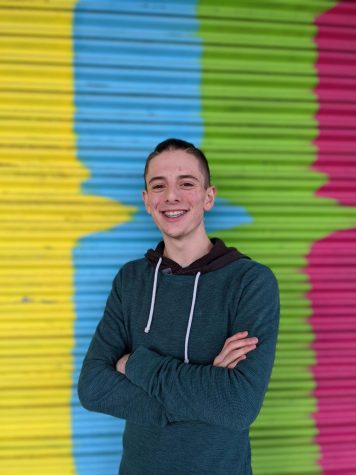 Garrett Masters, Opinions-Editorial Editor
Hello! I didn't see you there. My name is Garrett Masters. Being both an athlete and a movie lover, I am excited to be able to offer a unique perspective....