The cast of "Oklahoma" is taking center stage!
The Coffee County Central High School Theatre Program's production of "Oklahoma!" is in full swing! This Rogers and Hammerstein musical mixes humor, an exciting romance, and attention-grabbing action.
"Oklahoma!" takes place in, you guessed it, Oklahoma as it transitions from a territory to a state. 
In this musical, Laurey, niece of Aunt Eller, has feelings for our main man Curly. However, not everyone is as excited about the match as her aunt.
Jud, Aunt Eller's ranch hand, has a disturbing and almost sinister interest in Laurey. Laurey has a battle within her own feelings, as she fears that Jud may fight and kill Curly if she does not choose him.
Although she plays hard to get around Curly, Laurey has difficulty hiding true her feelings when a girl from across the river, Gertie Cummins, takes interest in Curly.
The musical's theme of love triangles continues as Laurey's flirtatious friend, Ado Annie, gets caught up between two suitors: Will Parker and Ali Hakim.
When Ali, a pedaller, gets flirty with Ado Annie one night under the moonlight, he mistakenly gets himself wrapped up in an engagement. 
However, Will has been off working for enough money to marry Ado Annie, as he discussed in a deal with Ado Annie's father. Will has an unfortunate fault about him, though: he can't seem to remember to keep his money!
Although he doesn't realize it, he has an unlikely ally in Ali. Will thinks of Ali as competition, but all Ali wants is to get out of his unintentional engagement to Ado Annie!
You still have a chance to catch the shows this weekend! The productions' last shows are on Friday and Saturday at 7 p.m. and Sunday at 2 p.m.
It's evident that "Oklahoma!" is quite a roller coaster ride, with twists and turns all along the way. Let's all grab our cowboy hats and parasols and head out to the CCCHS theater for a wonderful show and loads of good laughs!
About the Writer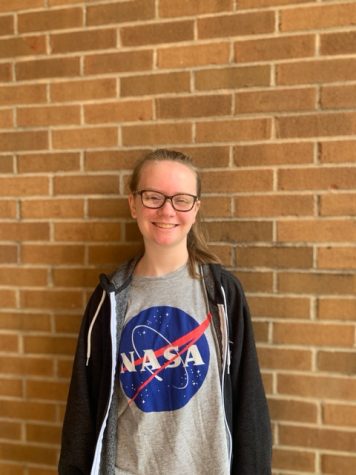 Lindsey Landrum, Humor Editor
My name is Lindsey Landrum and I'm a Sophomore at CCCHS. I like to play the piano, sing, and play disc golf. I'm also Assistant Student Leader for...