CCCHS' choir department presents: Discover Disney
Emma Holmes, Arts and Entertainment Editor
April 14, 2021
CCCHS's very own choral department is preparing to show us a whole new world of Disney music, coming at you live and in-person from April 15-18.
Put together but Choir Director Erica Petersen, this year's choir concert has much to offer. 
Senior Student, and member of Show Choir, Kailee Shores talks about all of the planning and effort put into the show by Petersen, "Mrs. Petersen puts in so much of her own personal time and energy to prepare us for our shows. She is so committed to making sure everything in our production goes well." 
After last year's concert was canceled due to COVID-19, Shores and Petersen both agreed that the choir department took a large blow after not being able to perform and raise money for their many groups. 
"We bought all of the music for last year's production and we never got to perform it, or even make up the money lost. Mrs. Petersen has tried really hard to make sure this production goes well to make up our losses," Shores says. 
With a wide range of music from over thirty different Disney films, fans and supportive members of the department can expect songs from movies like "Coco" and "The Lion King," to songs from "Camp Rock," "Teen Beach Movie," and even "Enchanted." 
When asked what audience members can expect from the show, Shores says, "People watching can expect a family-friendly production of all the Disney songs from their childhood." 
Since this is such a large and demanding show, Shores also offers us details about what goes into stringing together the many moving parts of this production. 
"Student leaders have choreographed all of our dances and worked really hard to teach it to everyone involved. We rehearse every day and even on the weekends to put together this show. Not to mention the physical toll it takes trying to dance and sing through a mask for hours on end." 
That being said, per the mask mandate and COVID-19 risks, the choir department asks that those who attend the production come ready to wear a mask and stay socially distant. 
The production will take place on April 15-17 at 6:00 PM, and April 18 at 2:00 PM in the CCCHS auditorium. 
Tickets will be $5.00 per person at the door with all proceeds going directly to the choral department. So, don't be shy, be our guest, and come on down to see the show!
About the Writer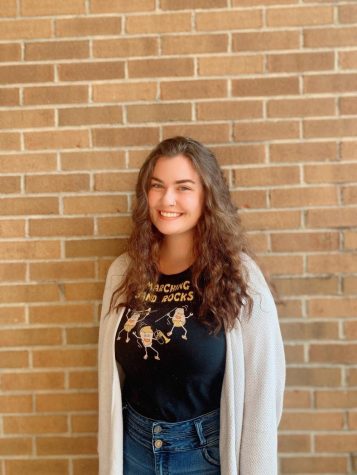 Emma Holmes, Arts and Entertainment Editor
Howdy! If you don't already know me, my name is Emma Holmes. Here at CCCHS, I take part in a number of activities. As well as being the Arts Editor and...