The Coffee County Red Raider football team falls to Page High School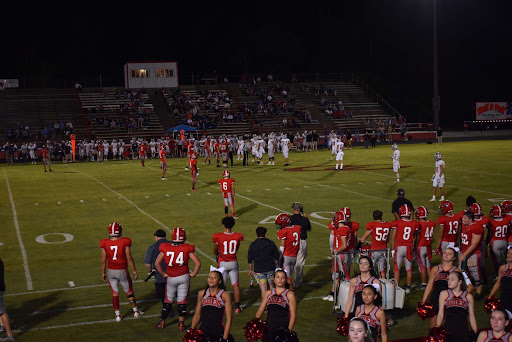 The Red Raider football team hosted Page High School out of Franklin, Tenn. on Friday, September 10.
Into three minutes of play, Page scored a touchdown, and the extra point was good. Connor Shemwell for Coffee County, however, was able to connect a pass to Travis Martin for a touchdown with 1:47 left to play in the first quarter. 
At the end of the first, the score was tied 7-7, but Coffee County was able to score first in the second half. Konnor Heaton ran the ball for a touchdown with 2:02 left in the second. 
Page answered and scored with 50 seconds left in the second, so the score was tied. However, they were able to score again with 12 seconds left, so Page was up heading into halftime.
After halftime, Page was able to hold Coffee County to three points, and Coffee County scored those points at the start of the fourth. 
Meanwhile, Page was able to increase their lead. The final score ended up being 17-38 for a Page victory.
Konnor Heaton was the Mid Ten Turf's Player of the Game with 165 yards rushing and a touchdown. 
The Red Raider football team travels to Lebanon on Friday, September 17, for a 7 p.m. kickoff.