College fair sparks interest at CCCHS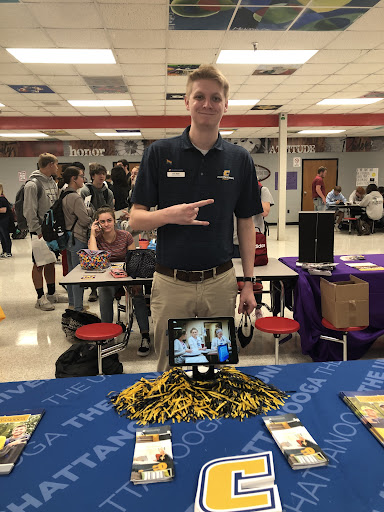 Ash Reynolds, Clubs and Organizations Editor
September 17, 2021
On Sep. 10, CCCHS held a college fair for senior and junior students.
Forty colleges attended the fair, and students were able to walk around to each college's booth, gaining vital information and asking any questions they had about that particular school.
The college fair served to help both students and colleges; it allowed students to gather information about the schools they were interested in while representatives from these schools could share all their colleges have to offer.
Michelle Sheible, a counselor at CCCHS, pinpointed the purpose of having a college fair, stating that it's "important for students to be aware of their post-secondary options so they can make informed decisions." 
In addition to the reasoning behind the fair, Sheible described the process of setting it up. She explained that the date for the fair is confirmed as early as February and that individual colleges are contacted by July. 
While it took a lot of work, the college fair seemed to be a positive experience.
Senior Sarah Tosh stated, "The college fair was helpful to me because it let me get information on colleges I have looked into."
Tosh also explained that it was a positive experience and that all of the representatives were prepared for any questions the students had.
Gathering information about schools they were already interested in was not the only hope for the college fair. Sheible also wished that students learned about colleges they had not known of beforehand. 
With so many options, it's likely most students had at least a couple of colleges they were unaware of. This gives students the chance to make a more educated decision.
At the end of the day, the college fair had one main purpose: to allow students to have the most information possible before choosing a school.
Ultimately, what do students need to remember when making a decision? Sheible said that one thing for students to keep in mind is having a "balance of school interest." Basically, applying to multiple colleges, having a mix of dream and safety schools.
Overall, the college fair seemed to be a success for students getting ready to decide where to go to college.