This prison is listed as one of the most supernatural places to visit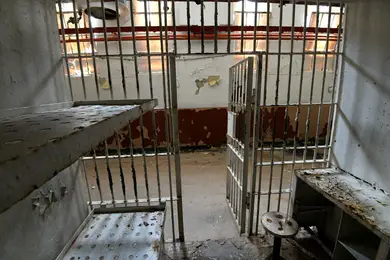 A common thread of most "haunted" tourist attractions is the fact it is often an area where a few people died. The grounds of a newly lost soul are often considered to harness the spirit of the person. 
There are terrifying places like soldier battlegrounds, abandoned hospitals, playgrounds, and schools, but there's one place some would consider the scariest place in Eastern Tennessee. 
Petros, Tenn. keeps a haunted gem in their fairly small town of 500 residents. Lately, the Brushy Mountain State Penitentiary has served as a popular tourist attraction and a stadium for concerts containing nearly 4,000 people.
Brushy Mountain State opened in 1896 as a coal mine and was built on the back of inmates. After the Coal Creek War in 1981, legislation was passed to transform the coal mine into Tennessee's very first maximum security prison.
Those that worked the mine, as many as three fourths of the prisoners, were affected by syphilis, tuberculosis, typhoid fever, and pneumonia. If the diseases didn't kill the prisoners, the beatings from the guards would strike punishment upon the inmates for the underproduction of coal. 
The prison was holding 900 men, which is 300 more than it was meant to contain. Therefore, the state thought the overcrowding was a sign to build a new prison, which opened in 1934.
The new prison was planted along with an 18-foot stone wall, the building itself resting at four stories tall. It was made in the shape of a cross. 
Things were going better, the new prison was safer and more sanitary, offering the inmates a narrow path into redemption. 
The prison was shut down on June 11, 2009 for too many workers going on strike due to unsafe working conditions. The empty halls soon turned into a public touring place.
You have a choice of two tours: guided or self-directed. There are thirty different stations, which include actors  throughout that will tell you their story or how their minds warped while their lives were stolen by time spent locked away.
"We look forward to seeing you when you come to visit us at Brushy Mountain State Penitentiary. It will be an experience you carry with you for the rest of your life," states Brushy's tourism website.