Here are some great songs for the warm weather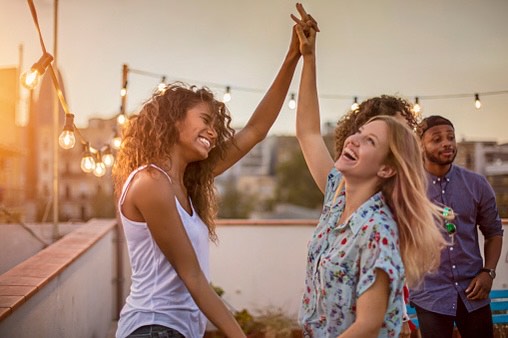 We're heading into May, and that means warm weather is here! We've already begun seeing higher temperatures and clear skies—when it isn't pouring rain, of course.
What helps set the mood more than the sunshine? Music of course! Here is a playlist comprised of 15 songs that will have you feeling good and groovy in the coming spring weather!
https://open.spotify.com/playlist/1Fgj8U1V5pIsmFSwvn1rVs?si=oGIFxCk1SFis-AFd9DDD9w
"Running Out Of Time" – Paramore
This is the song that inspired the whole playlist; with amazing bass lines and groovy rhythm and lyrics, this song will have you head-bopping and tapping your fingers!
"Leave Me Alone" – I DON'T KNOW HOW BUT THEY FOUND ME
The alternative sound is very charming and easy to dance along to. It's impossible not to!
"My Type" – Saint Motel
This song has an upbeat and rhythmic tune that'll get you dancing like a puppet on a string!
"Music For a Sushi Restaurant" – Harry Styles
First of all, it's Harry Styles; you know the song will get you on your feet. Second, the song has such a unique and cheerful sound you just cant resist!
"Cool for the Summer" – Demi Lavato
With "summer" in the title, this song lives up to its name with the bright and exciting beat!
"Hard Times" – Paramore
There's just something special about the way the tune and beat work together to get you moving! Despite the title, the song makes you feel like it's party time!
"Side Effects" – The Chainsmokers, Emily Warren
This is another one of those where the beat is well paired with the tune and perfectly rhythmic to make you bust out your moves!
"Treasure" – Bruno Mars
Oh come on, who hasn't heard this song? The tune and lyrics are joyful and smooth, and the song itself is just nostalgic!
"where I wanna be found" – NEEVE
You'll wanna be found listening to this song! It's catchy and upbeat, perfect for a good warm feeling!
"this is what falling in love feels like" – JVKE
The beautiful opening leads you into an incredible song about the feeling of love, all along with bright warm tunes!
"Do Your Thing, Babe!" – Michael Medrano, Funk LeBlanc
This song is very upbeat and funky, and gets you dancing like there's no tomorrow!
"This is Why" – Paramore
This one is a bit of an odd-man-out and doesn't sound very like the others in terms of pitch, but just trust me. The beat is very catchy and will have you tapping your feet in no time!
"Gold" – Chet Faker
It has a very unique sound, but very pleasant to listen to and good at getting you in the warm groove!
"Heaven Angel" – THE DRIVER ERA, Ross Lynch, Rocky
This song is another good head-bopper; the beat is catchy and almost satisfying to listen to!
"Manic Pixie Dream Girl" – EASHA
Another oddball, but let me cook! It's super catchy and the beat matches the funky dance beats of the rest of the playlist.
Each of these songs pulls this playlist together in a really cool–and almost alternative–way! The catchy tunes and beats really capture that warm weather feeling, perfect for singing and dancing along. Here's to great vibes and great weather!