Winter Guard Commences!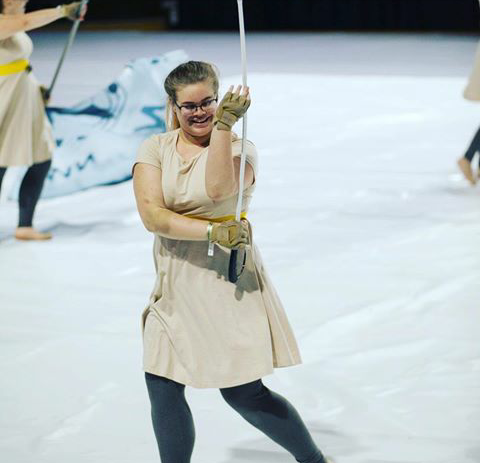 Hang on for a minute...we're trying to find some more stories you might like.
With Marching Season coming to a close, the color guard gears up to welcome a new batch of students to the Winter Guard program.
Although the color guard lost quite a few of its members during this year's marching season, they have many auditionees for the upcoming Winter Season. According to Jacob Breed (Color Guard Director) "Winter Guard is an indoor color guard sport that is performed in a gymnasium sized space…Unlike fall color guard, winter guard has no age limit with performers continuing to perform, far after their graduation, in Independent Winter Guards. Annually, Winter Guard International holds the World Championships in Ohio, where guards from around the world come to participate in this winter sport competition." This elite group of performers travels to competitions across Tennessee, Kentucky, and Alabama. The Coffee County Winter Guard also performs, along with the rest of the Red Raider Marching Band, in the Christmas Parade.
COMPETITIONS
Siegel Competition
Independence HS Competition
Lawrence Co. HS Competition
Bob Jones HS Competition
Summit HS Competition
Nashville WGI Regional
Beech HS Competition
Spring Hill HS Competition
SCGC Championships
Daniel Percell has been instructing the Color Guard for five seasons (since 2015), along with Mr. Breed, who has been instructing for three seasons (since 2016). Both directors have developed a passion for the sport through their own high school experience, and chose to come back to CCCHS to help the younger generations develop the same passion.
"
100% or nothing!"
— Jacob Breed
Students need to have experience prior to auditioning for Winter Guard, however, for our audition for fall color guard students only need to attend workshops and have an enthusiastic attitude about participating in color guard.
Workshops for the 2018 season occurred on October 30 and 31, auditions were concluded November 2. Winter Guard does have a fee usually ranging from $200 to $350. This seasons fee is $325. Students do not need to purchase a flag, but if they wish to audition for rifle or sabre, they must buy this equipment by November 9.
Even though many students at CCCHS are unable to audition for Winter Guard, we encourage everyone who is interested in joining to come to our auditions in April to try out for our fall guard!
Also, students can email Mr. Breed at [email protected] to join the email list for information on upcoming audition information.