Stacked Line Up To Rock Exit 111 Festival
The Exit 111 festival is October 11-13 at Great Stage Park in Manchester, Tennessee and has legendary bands! One dollar from every ticket benefits the Suicide Awareness Voices of Education. Furthermore, if people who are interested in earning free tickets can become an ambassador. They simply sign up and send a link of the tickets to those who are interested and earn rewards. Children ten and younger gain free admission if they are with an adult who has a ticket.
Three day general admission tickets start at $189, which includes access to shows,  plus additional experiences. Also, there is a discount when buying four three day general admission passes at $676 which includes one car pass, and is not valid with a one day pass. There is a three day military discount for $159, with a valid ID. There is a single day general admission pass that starts at $89. The single day pass has everything the three day general admission pass for one day.
Three day VIP admission starts at $495 and comes with all of the advantages of general admission and additional perks including the VIP lounge access with free water and energy drinks, air conditioned private restrooms, shaded seated lounge, freestyle motocross experience, preferred pricing at the cash bar on beer and liquor, main stage premium viewing, and a lot of more enjoyable activities. Also, there is a single day VIP pass that starts at $299, and it has everything the three day VIP pass.
Three day platinum admission starts at $1,375 and comes with all of the advantages of general admission and a lot of more experiences including the platinum lounge, main stage up front viewing, stage two and three reserved viewing, dinner buffet and snacks, reserved seating at paranormal cirque experience, golf cart transportation from stage to stage,  and a lot of more activities. There is also a single day platinum that starts at $799 and it comes with all of these amenities.
All tickets include the paranormal cirque, the red bull motocross, mega sports bar, and the Exit 111 car show. The paranormal cirque is a combination of a circus, cabaret, and theater. The red bull motocross claims to have the best freestyle motocross riders in the world. The mega sports bar will be playing televised sports game in that area.
Car camping prices start at $50 plus fees. The car camping pass  allows entry for a car, truck, SUV, mini van, or any other vehicle that has the car camping pass starting Thursday afternoon until the end of the festival. Furthermore, the pass allows four nights of camping, a campsite room for you, your ride, and your friends, in and out privilege between campgrounds and entertainment areas, access to campground bathrooms, food vendors, and free water stations. Hot water shower facilities are available for purchase.
Motorcycle passes start at $15 plus fees allow entrance at 8:00 a.m. on Thursday. The motorcycle camping pass  allows the same as car camping prices. RV camping passes range from $250 – $800 plus fees and allow the same privileges. A single day parking pass starts at $35 plus fees, and the weekend parking pass starts at $99 plus fees.
Attendees may leave and re-enter the campgrounds , but they must have their arm bands scanned by the staff before leaving and when returning. The following items are prohibited glass, kegs, weapons, drones, fireworks, illegal substances, bicycles, professional cameras, pets, glow sticks, trailers, laser pens, tools,  food or drinks (besides water), selfie sticks, outside alcohol, chairs, and totems. Selling food or other items by attendees is prohibited.
There are volunteering opportunities for gaining three day admission passes and free camping by helping keep Exit 111 clean. These can be found on their website. 
About the Writer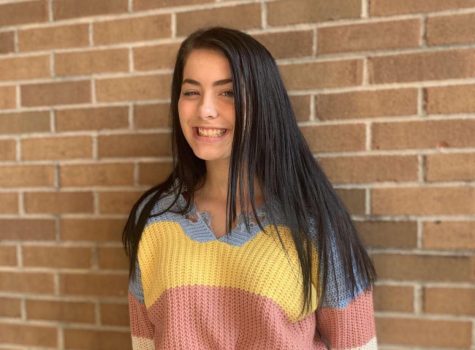 Aubrie Holder, Sports Writer
My name is Aubrie Holder and I'm a senior this year. This is my third year being on the journalism staff, and I couldn't be happier. I'm on the CCHS...