The first CCCHS Teddy Bear Toss is scheduled for this Friday.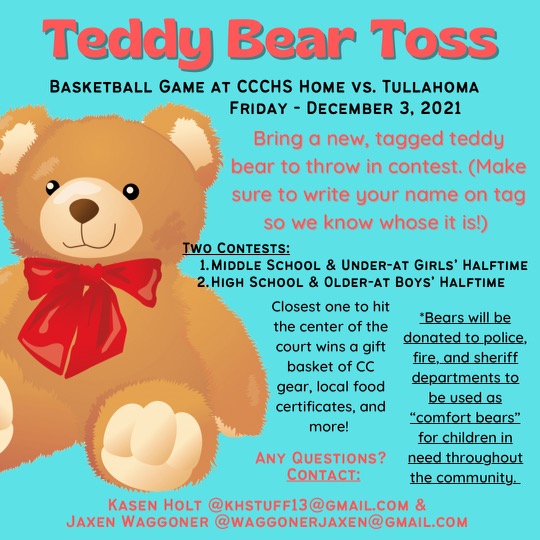 The first of two annual county-rivalry basketball games is scheduled for this Friday, December 17th, but with a new event attached. The Teddy Bear Toss will take place at the halftime of the varsity games to donate bears to local emergency services for children and for a gift-basket prize.
The Coffee County Red Raiders are set to play the Tullahoma Wildcats this Friday, December 17th. The two high schools and towns have had a friendly feud for years, but every once in a while the feud becomes a little too real.
To prevent the community from tearing in two, two CCCHS seniors have organized this event where everyone can come together under one cause. This was inspired by a similar situation earlier this year.
When it came time for the Coffee Pot (the football game between the schools), the crowds joined together in flood-relief donations for Humphrey County in August. CCCHS Student Government organized it and carried donation buckets through the stands reminding everyone there is something more important than an old rivalry.
This Friday's event however is entirely different than the one this past August.
Inspired by Westwood Middle School several years ago, at the halftime of varsity games there will be a Teddy Bear Toss. The toss had everyone stand at the sides of the court and try and throw their new bear into the hula hoop. The bears must be new with the tags still attached and your name written on the tag. The closest to the center of the floor wins a gift basket with a variety of items from Coffee County gear to local businesses donations.
There will be two tosses. During the girl's halftime middle-school aged participants and younger will throw. During the boy's halftime high-school aged participants and older will throw. Spectators of all ages are encouraged to try!
After the tosses, all bears will be collected and donated to the local emergency services for the bears to be used as comfort bears for children in traumatizing events.
Everyone is encouraged participate and if you have any further questions contact Kasen Holt @[email protected] or Jaxen Waggoner @[email protected].