CCHS FBLA wins big at State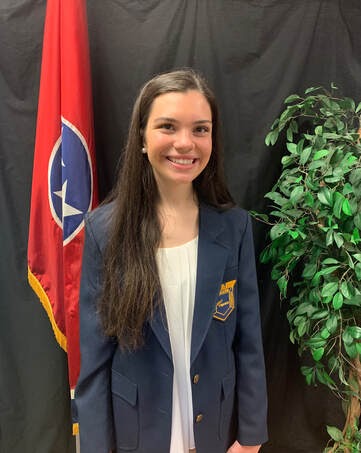 The Coffee County High School chapter of FBLA won big at the virtual state conference on Tuesday. 27 State Conference Placings, 33 National Qualifiers, two Scholarship sponsors, one state officer elected, and one regional officer elected.
Elizabeth Brown, the freshly elected President of TN FBLA, told me that "she has wanted to be state officer since Freshman year, but being elected president was the icing on the cake." 
Brown has big plans for TN FBLA, she plans on doing a variety of things, including increasing the membership and helping all members increase their networking skills.
FBLA has had a difficult year, with the entirety of their conferences being moved virtual, they have suffered many blows this academic conference. 
The National Leadership Conference, set to be in Anaheim CA, has recently been moved virtual following a vote by the National Board of Directors.
Below is a list of all the State winners of FBLA:
FBLA OFFICERS ELECTED:
ELIZABETH BROWN – TN STATE PRESIDENT

CONNOR FOX – REGION 4 SECRETARY
FBLA SCHOLARSHIP RECIPIENTS:
LIVY RAYFIELD – REGION 4 DR. BILL RADCLIFF SCHOLARSHIP

JALEN SHELTON – JARED MICHAEL BRYANT MEMORIAL SCHOLARSHIP
FBLA VIRTUAL STATE COMPETITION 1ST PLACE:
ELIZABETH BROWN – LOCAL CHAPTER ANNUAL BUSINESS REPORT

ELIZABETH BROWN – PUBLIC SPEAKING

CADEN DAVIS – INTRODUCTION TO PUBLIC SPEAKING

ELLA HELMS – INTRODUCTION TO BUSINESS PROCEDURES

LUKE BEACHBOARD, BODEY TODD, & RILEY TUCKER – GRAPHIC DESIGN

LANDON CRABTREE – CYBER SECURITY
FBLA VIRTUAL STATE COMPETITION 2ND PLACE:
EMILY WHITTEN – ACCOUNTING II

KAITLYN CLARK & LILLIE ANN OGLE – BROADCAST JOURNALISM

DIANA NARANJO – BUSINESS COMMUNICATION

CADIE PRATER & RILEY WOOTEN – BUSINESS ETHICS

KIELE SMITH – BUSINESS LAW

AVERY HILL – INTRODUCTION TO BUSINESS

AUDREY BARTON & CLAIRE RONDOLET – INTRODUCTION TO BUSINESS PRESENTATION

LUKAS WORKMAN – PERSONAL FINANCE
FBLA VIRTUAL STATE COMPETITION 3RD PLACE:
CALLIE ROPER – ACCOUNTING II

LISBETH MARCELENO-ARREDONDO – BUSINESS COMMUNICATION

CONNOR FOX – CLIENT SERVICE

ANNA GODWIN,  KASEN HOLT, & CAROLINE BALLARD – GRAPHIC DESIGN

BRADY GOODWIN – INTRODUCTION TO FINANCIAL MATH

ASHLEY RIGNEY – INTRODUCTION TO PUBLIC SPEAKING

RYAN GREEN – JOB INTERVIEW

LIVY RAYFIELD, MACY TABOR, & BELLA VINSON – PUBLIC SERVICE ANNOUNCEMENT

TREY ROGERS – SECURITIES & INVESTMENTS
FBLA VIRTUAL STATE COMPETITION 4TH PLACE:
MADDI HELMS – ACCOUNTING II

TAYLOR LORANCE – ORGANIZATIONAL LEADERSHIP

JALEN SHELTON – SUPPLY CHAIN MANAGEMENT
FBLA VIRTUAL STATE COMPETITION 5TH PLACE:
MACIE LAWRENCE – WEBSITE DESIGN