Trends of spring and summer 2021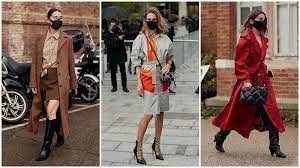 Each year, prominently in spring and summer, trends arise, and individuals embrace them. This year, as we approach summer, let's look at some of the anticipated trends.
Most of the following will be fashion trends, as fashion is an ever-changing topic of trends. Some trends are even making a return from prior years, and that is the beauty of fashion. 
There are trends for all ages.
Starting is a comfortable alternative for jeans, dress pants, or skirts. This alternative is sweatpants. 
Let's be real ladies. We are all for comfort, but we are also all for looking cute. 
Women of all ages are using sweatpants to dress up their outfits while being concerned with their comfort level. 
Add a cute top, a sweatshirt, a jacket, and some cute shoes, and you're set! 
Next, a trend that is making its way back is chunky shoes. Chunky shoes are also a nice piece to add to the sweatpant look. 
Air Force 1's and Air Jordans are a popular pick among the teenage population, and shoes that made an appearance in the 90s are making their epic comeback. Also, Nike Air Max's is a very nice pick, and all these Nike sneakers are perfect for the spring and summer. 
Making their way on the charts are shoulder-padded boyfriend jackets, or as some may know them: blazers. It was an 80s trend, but as we have learned, previous year's trends are coming back. 
These jackets add a nice touch to spice up any fit, and it enhances the modern style. Add some jeans, trousers, or even some sweatpants!
Pastel tones are a big spring and summer trend of 2021. With jackets, pantsuits, or just some easy touches of pastel tones, sorbet colors are really making a statement. 
Next, we have fun florals. What can get more "springy" than florals?
I think floral is self-explanatory; it is the best way to express a spring and summer vibe. 
The last trend taking the world by storm is black face masks. Face masks are becoming a prominent part of our world, and maybe even the new normal.
Black ones are great because they go with literally anything, and anywhere we go, we need a face mask. 
With a black one, whether it has a design on it, or it is just normal, it will match your outfit. 
As we enter summer, keep an eye out for these trends. Fashion has become so diverse, and some trends are even making their way back!