Bright Students Rise to the Top
The class of 2019's top ten percent was recognized earlier this week at the annual banquet. These seniors have worked hard all four years of high school to maintain a high GPA–all while taking Advanced Placement, Dual Enrollment, Dual Credit and honors courses. To qualify for top ten percent, the student must be enrolled at CCCHS for at least six semesters. This year's valedictorian is George Gannon and the salutatorian is Isabel Watkins.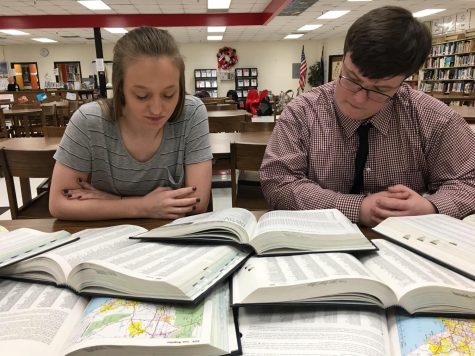 The members of the 2018-2019 top ten percent are listed below in alphabetical order.
Josh Barnard
Jack Beachboard
Jessica Bogle
Tanner Brisbane
Sekota Chaput
Lacey Deason
Sara Dove
Alison Elam
Austin Farris
Erin Ferrell
Daniel Frideczky
Abbie Gilliam
Hailey Hackney
Chloe Haggard
Matthew Hale
Weston Hargrove
Morgan Henley
Harley Hinshaw
Bryson Hullet
Meagan Jones
Travis Lawson
Anabelle Layne
Clayton Lowell
Yanely Luna
Natalie McNeese
Abby Morgan
Elexa Payne
Josh Perry
Ann Petty
Samuel Prater
Michelle Qualkinbush
Kara Roper
Dalton Sherrill
M.E. Spradley
Chloe Spry
Amber Walker
Zoey Ward
Noah Watkins
Makenzie Webb
Abby Weidenbacher
Lacey West
Allison Williams
Congratulations to this year's top ten percent!