"Skin" versus "drivers license"
Olivia Rodrigo, "High School Musical: The Musical: The Series" Disney+ exclusive star, released her debut single that broke records. In a "reported" response, Sabrina Carpenter released her song "Skin" and returned from her music hiatus. 
Rodrigo's song, "drivers license" has simultaneously streamed #1 on Spotify, Amazon Music, and Apple Music. According to Spotify, "drivers license" has officially broken Spotify's record for the most single-day Spotify streams with over 6 million; the previous highest was Drake's "Nonstop" with more than 5 million. The day after the record was broken, Rodrigo broke her own record. 
And besides the Song of the Year contender speculation, it's no surprise teens all over have fallen in love with this song. The writing style is reminiscent of Taylor Swift with a Lorde type sound. 
Not to mention Rodrigo's already present fan base. Having starred in the Disney Channel show "Bizaardvark," fans knew the familiar face when the trailer for "High School Musical: The Musical: The Series" (HSMTMTS) dropped. The cast of "HSMTMTS" includes a variety of faces, but Rodrigo co-stars with Joshua Bassett, the possible inspiration for her hit song. 
The story goes that when filming for the show began in early 2019, Bassett developed a crush on Rodrigo and wrote the song "Anyone Else." The song is about loving someone when you shouldn't, but how you couldn't want anyone else. 
At the time, Rodrigo was dating Ethan Wacker, a previous co-star from the show "Bizaardvark." After a couple of months of filming, Wacker reported in a now-deleted tweet that the couple had broken up. 
Our story continues with speculation of a relationship between Bassett and Rodrigo, but with a two-year age difference nothing was ever confirmed despite obvious clues. 
The show executives noticed both Bassett and Rodrigo had songwriting experience and asked the two to write some music for the project. Rodrigo wrote another popular heartbreak-hit, "All I Want" and together the couple wrote, "Just for a Moment." When the two were told their music would be included in the show, they went to In-and-Out to celebrate. And despite being 16, Rodrigo still had never driven and in that parking lot, Bassett taught her in his white car. 
So, as time went on and interviews came out, the two stopped hanging out as often, and then Bassett was spotted with previous Disney Channel star, Sabrina Carpenter. Carpenter and Bassett were spotted together often from restaurants to Black Lives Matter protests. And then, we heard the first draft of the upcoming song, "drivers license" and another unreleased song about how she lost herself in a relationship.
My favorite of these instances was the filming for the music video "Anyone Else." In the music video, the girl's face is never seen but her nails are. Between footage of the music video and Carpenter having access to social media, fans caught on fast that the song Bassett wrote for Rodrigo had Carpenter in it. 
Around this same time, fans started to notice how distant the cast had become with Bassett while still appearing extremely close to Rodrigo. Then, as I call it, Announcement Day happened. 
On Announcement Day, the entire leading cast liked and commented on Rodrigo's post introducing "drivers license." But, Bassett also posted about his new song "Lie Lie Lie" and an EP and had no support from the cast. One Tik Tok by @hsmtmts_tea pointed all this out and was liked by Larry Saperstein, another actor on the show, neither confirming nor denying this theory. 
Then "drivers license" came out and became one of the biggest singles of all time and had lines referencing an older blonde girl, a song written about her, and getting her driver's license. 
To explain these lines, like mentioned before Basset took her driving for the first time and Carpenter is the elder blonde. And obviously, the song she's referring to is Bassett's debut single, "Anyone Else." With the other lyrics with mentions of white cars, allusions to his unreleased music, and the clear symbolism in the music video, it doesn't take a genius to piece together who Rodrigo was writing about. 
As the days passed, fans realized Bassett's new song, "Lie Lie Lie" had been written years prior and was in no way about Rodrigo so they attempted to make it clear to all. But on Bassett's release day, he posted a picture in the hospital and suddenly his castmates became supportive once again. Not much to say because "Lie Lie Lie" isn't about Rodrigo. 
That's where many believed this chapter had ended until Carpenter made an announcement. She had a new song. One week after Josh's song, she posted it to Instagram and her song would be released at midnight. 
Confirmed by her co-songwriters, this was written after "drivers license" was released.
The song holds the idea that she has the guy, so she won. With lyrics like "Maybe blonde was the only rhyme…" and "To get under my, under my, under my skin while he's on mine," everyone knows it's a response to Rodrigo. 
Rodrigo confirmed a couple of hours after the song released that it was in fact written about her. She tweeted, "I didn't even rhyme anything with blonde lol." Whereas Carpenter just posted to Instagram saying there were a variety of things contributing to the song's lyrics. 
But now the question from the beginning is bigger than ever: is it all marketing? Since the beginning, it has been speculated if it was all fake because their announcements were so close and it takes longer than two weeks to record and produce a song. There have been changed lyrics and similar music videos all asking if this could possibly be fake? And how could a song be written a couple of weeks ago when it was teased months ago? 
The answer is no one knows. None of the three will confirm anything, but we all know what happened. However, my answer is if this is all marketing, why would Carpenter agree to look this bad? The only one of the three to really get anything out of this was Rodrigo, so why would the other two agree? 
So we've finally reached the end of this chapter, but what will happen when season two of HSMTMTS finally airs? Will Bassett and Rodrigo fall in love again "Just for a Moment?"
About the Writer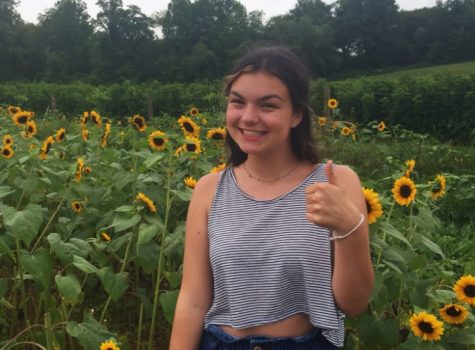 Jaxen Waggoner, Copy Editor and Social Media Manager
My name is Jaxen B E Waggoner. The B E stands for Bonnie Elizabeth. Except I'm stealing this from Junie B. Jones and she just likes B and that's all. 

I...